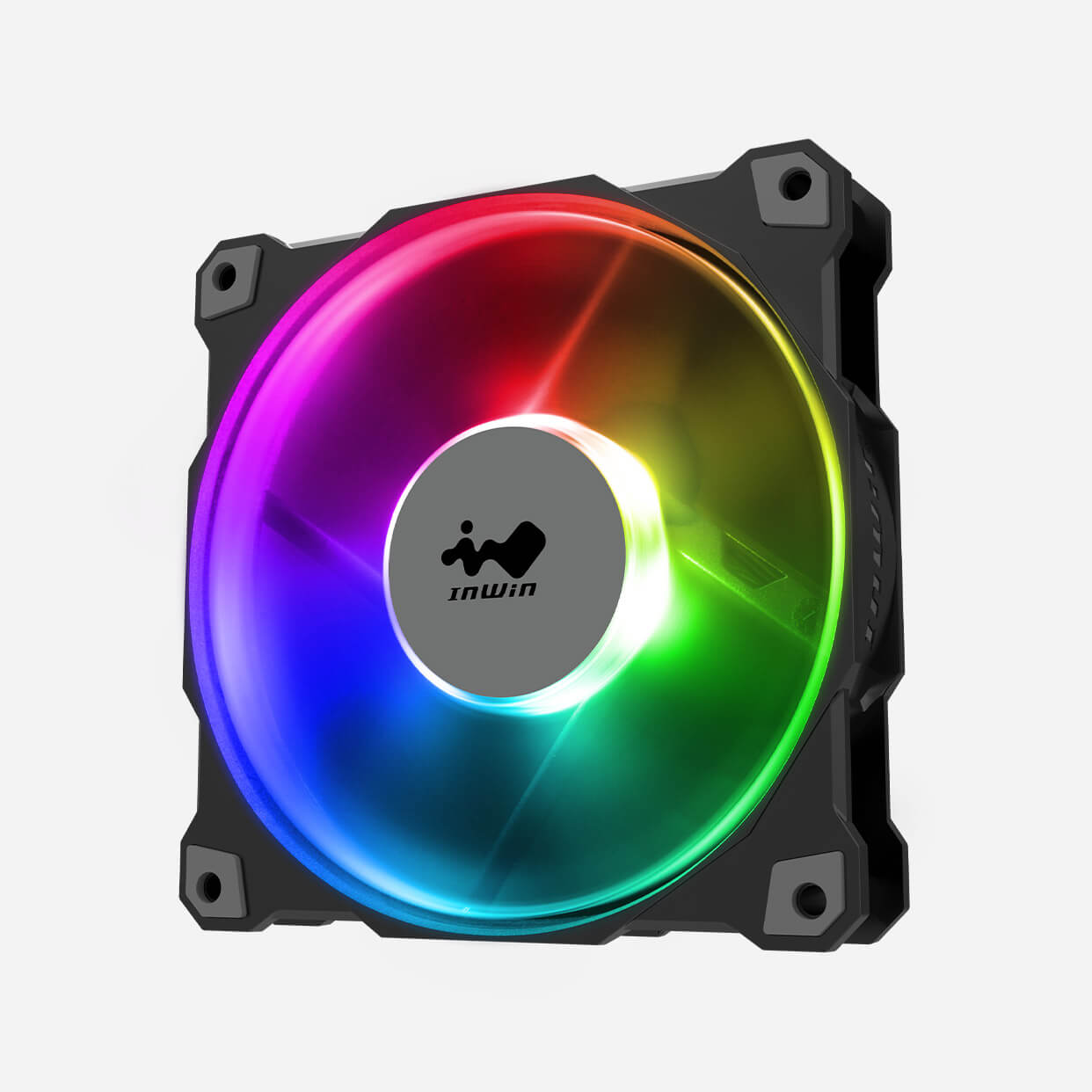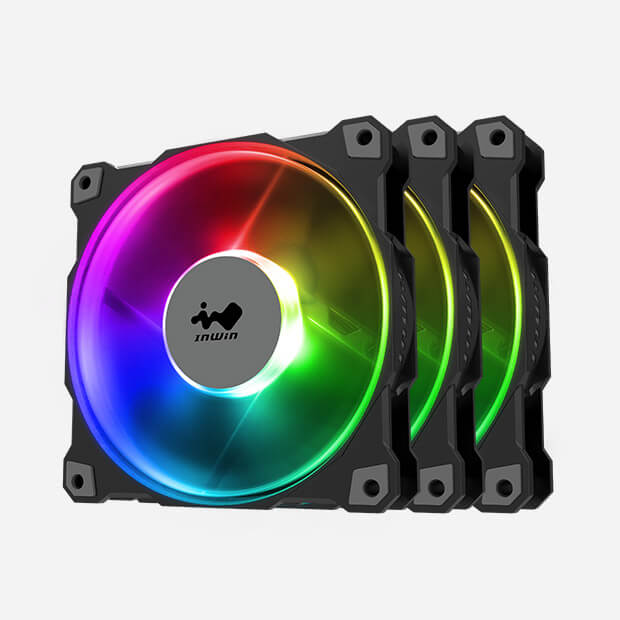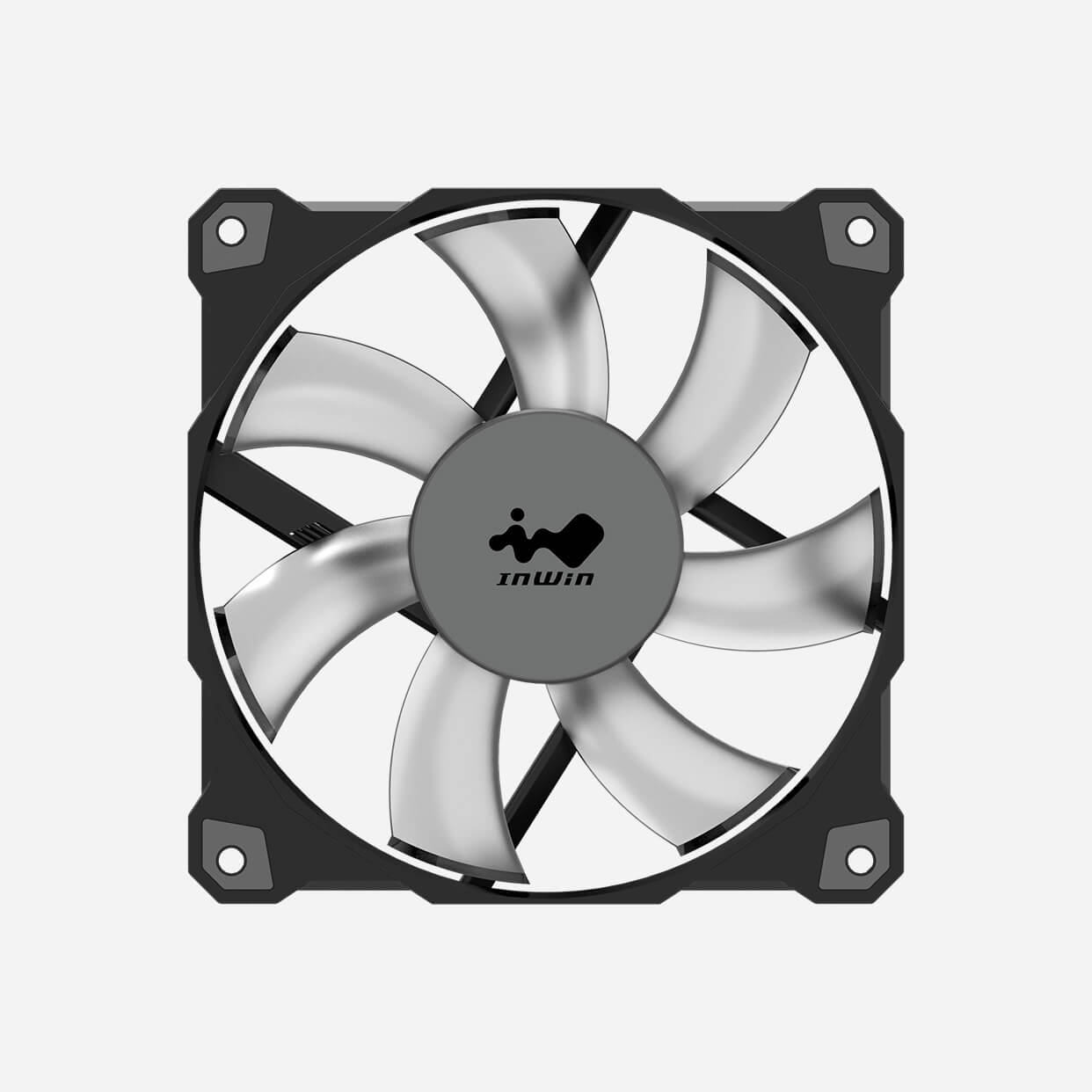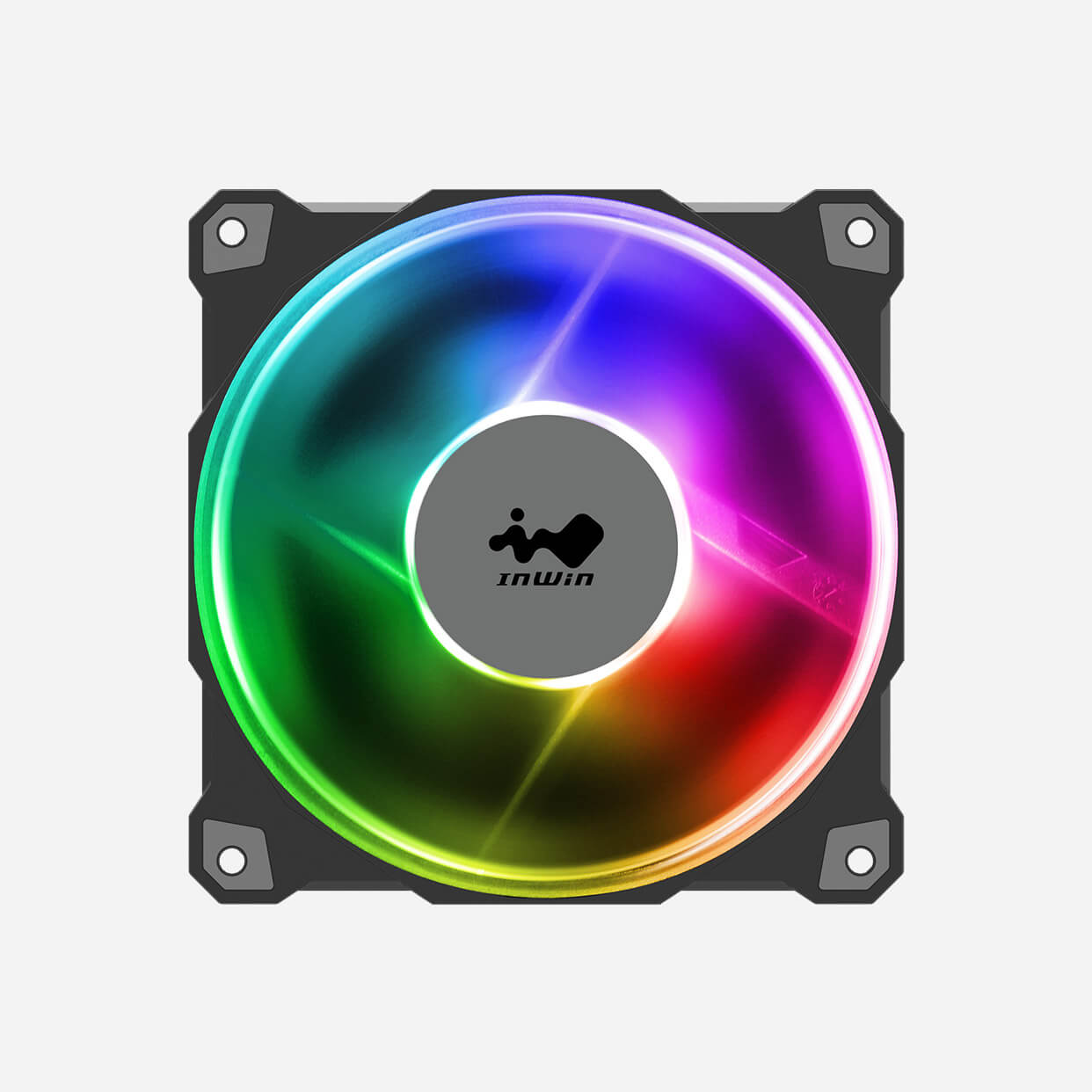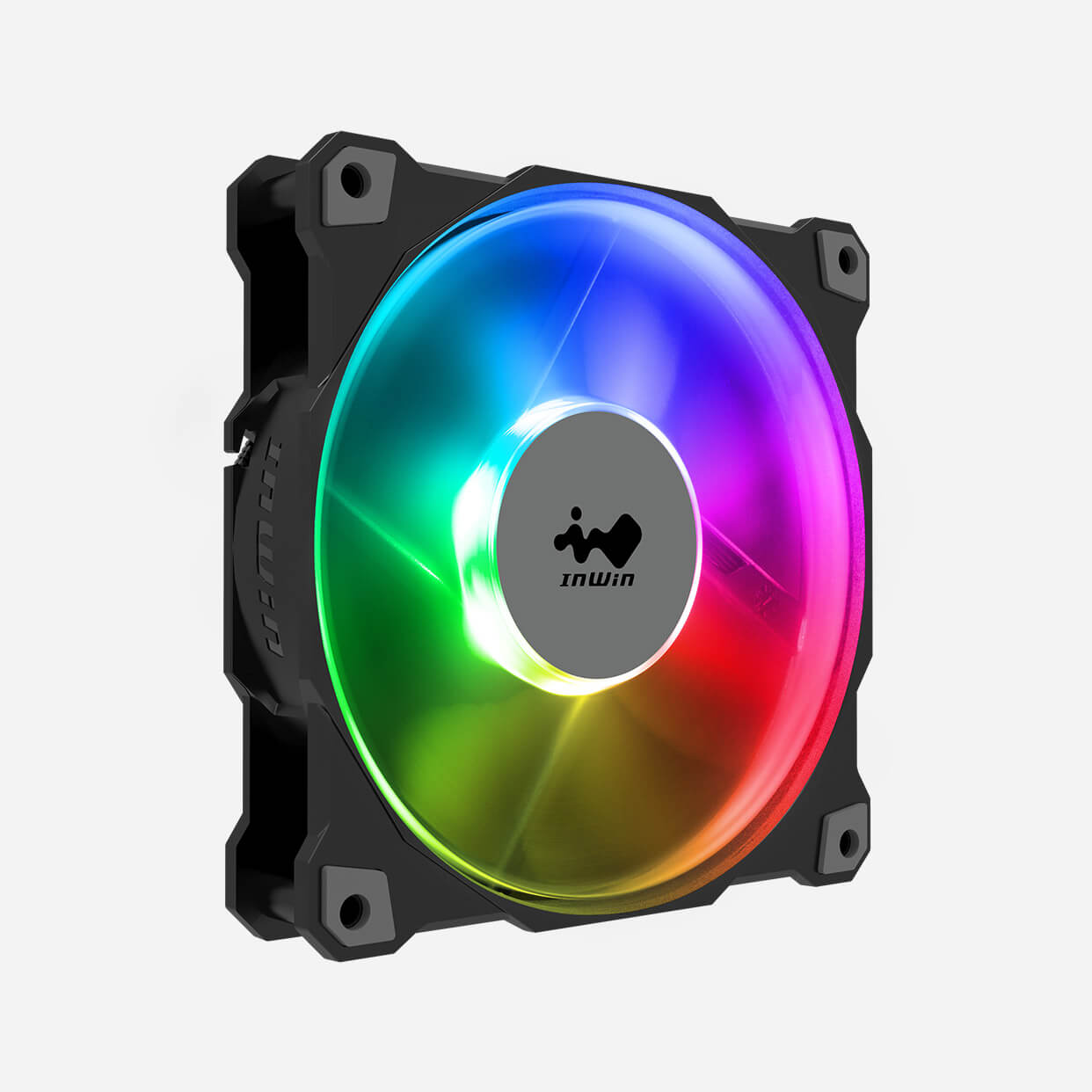 Jupiter AJ120
The Jupiter AJ120 fans provide 70.32 CFM airflow. It features seven blades, sleeved bearings with a long lifespan, ARGB LEDs and a one-click RGB Controller.

* The single pack can only be synced with an addressable RGB motherboard. Please make sure your motherboard supports addressable RGB lighting.
High Airflow Case Fan

ARGB Lighting Effect

PWM Cooling Design

Included ARGB Controller Allow Fans to Function Without an ARGB Motherboard (only in 3 pack)
Specs
Model
Jupiter AJ120
Model Number

IW-FN-AJ120-1PK


IW-FN-AJ120-3PK
Fan Size
120 x 120 x 25 mm
Materials
PBT, PC
Rated Voltage
DC 12V
Rated Power
2.4W
Rated Current
0.20A
ADD RGB Rated Voltage
DC 5V
ADD RGB Rated Power
1.1W
ADD RGB Rated Current
0.22A
Speed Mode
PWM 500 - 1800 +/- 10% RPM
Air Flow
70.32 CFM
Air Pressure
2.62mm / H2O
LED
Addressable RGB
Connector (Fan to Fan)
Non-Modular Cables
Connector to M/B
4-Pin (12V), 3-Pin (ARGB, 5V)
Noise Level
35 dB(A) (Max.)
Bearing Type
Long Lifespan Sleeve Bearing
Net Weight
200 g / 0.44 lbs
600 g / 1.32 lbs
Package Dimensions (L x W x H)
125 x 30 x 185 mm
4.92 x 3.14 x 7.28"
125 x 80 x 185 mm
4.92 x 3.14 x 7.28"
Warranty
2 Years
* InWin's products comply with RoHS regulation.
* Specifications may vary based on different regions.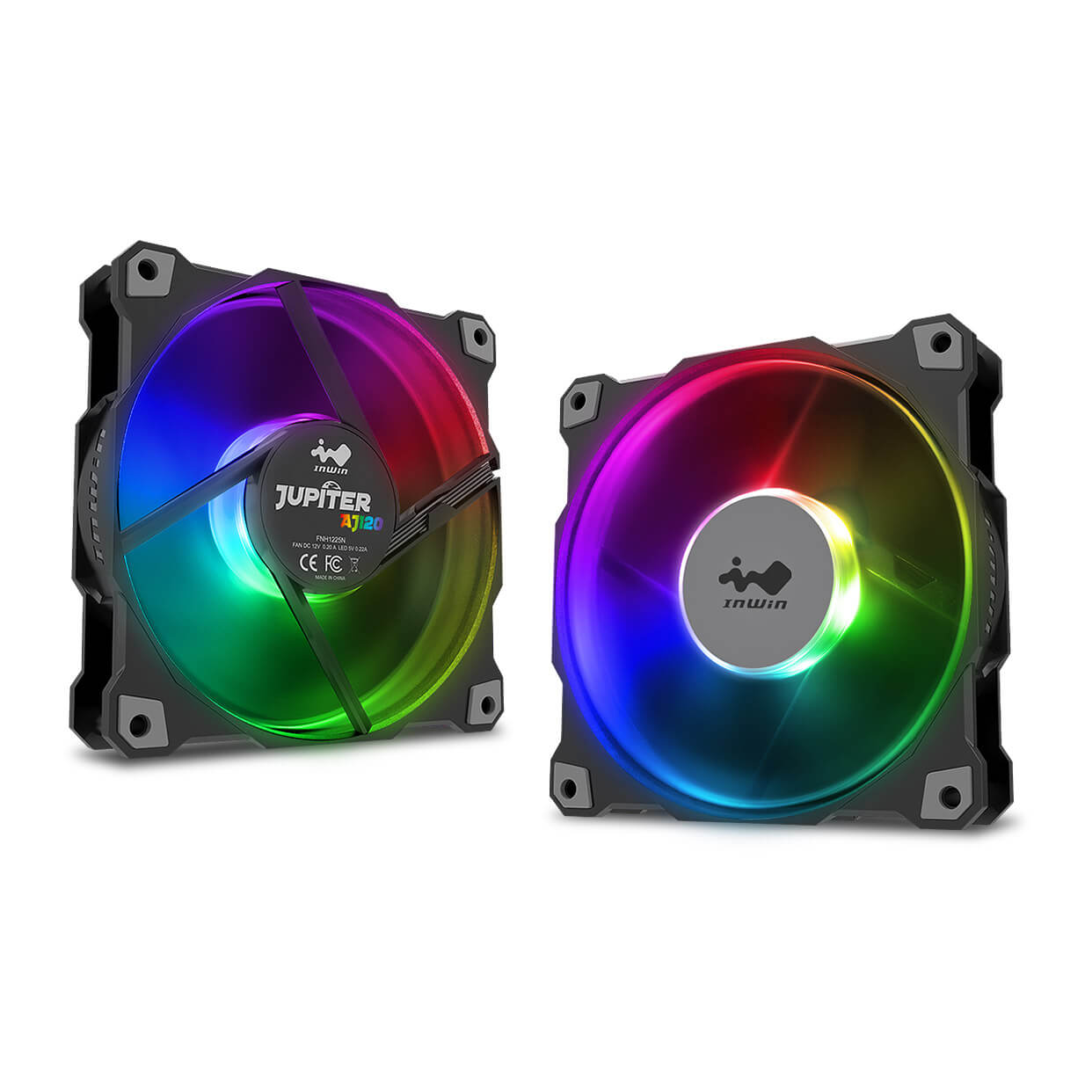 Light Up With the Flow
Cool down your PC with the Jupiter AJ120 high airflow case fans and light up your ARGB light show!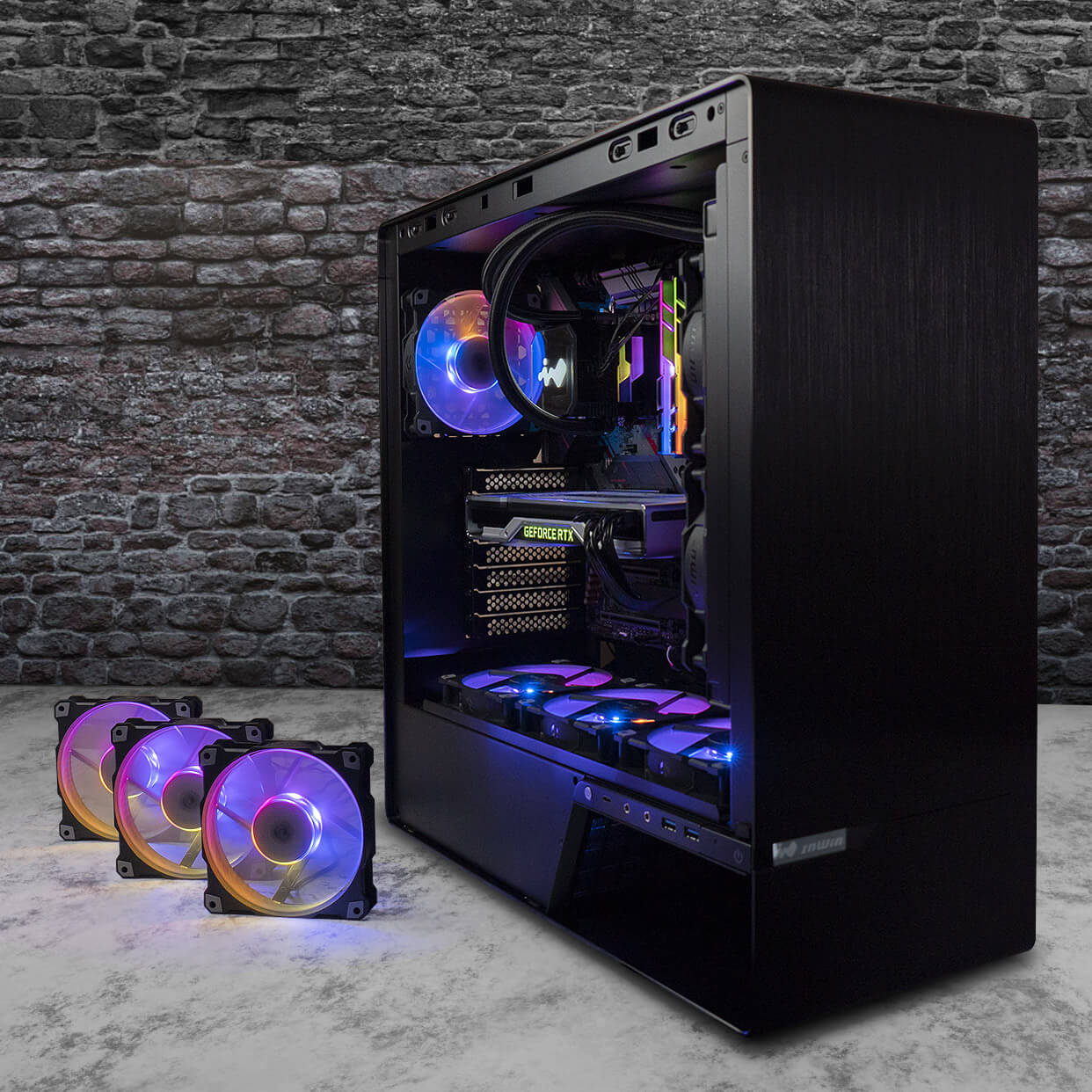 Complete Your ARGB Build
Sync the Jupiter AJ120 to the motherboard or you can just connect to the included ARGB one-click controller to enjoy the 16.8 million ARGB colors effect!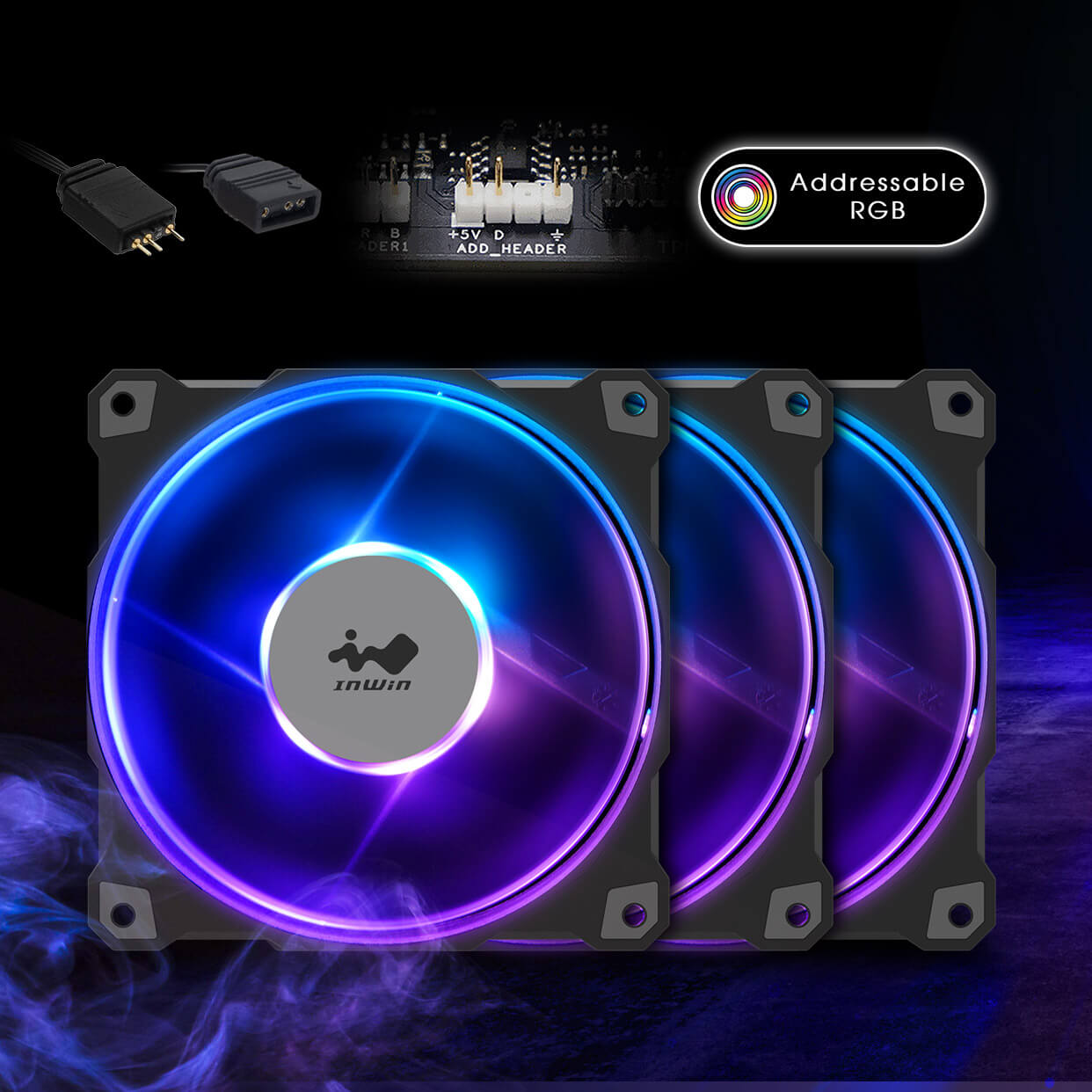 Easy Cable Connection
Jupiter AJ120 simple cable management design allows builders to daisy-chain fans together for quick and easy installation.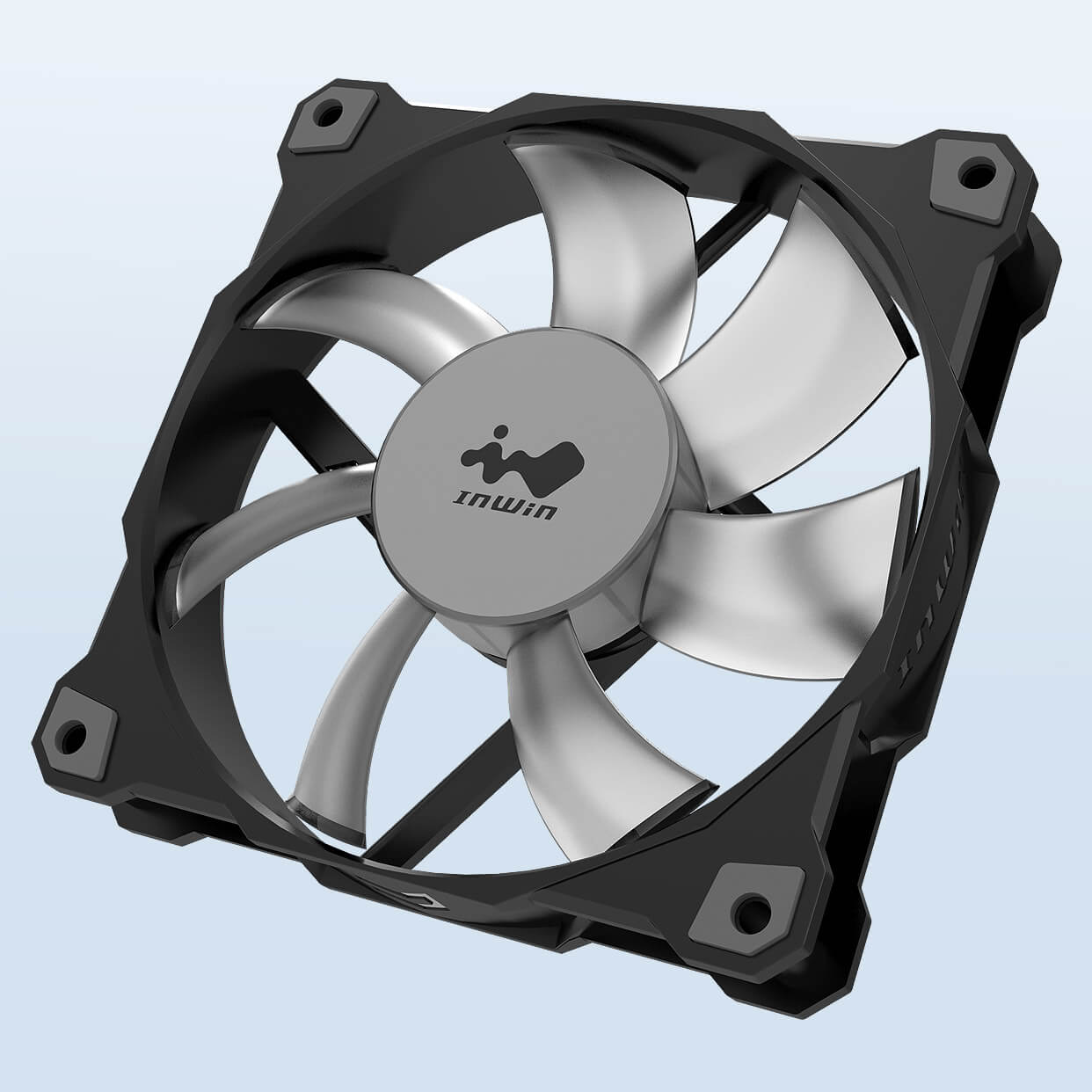 Shockproof Rubber Stand
Four shockproof rubber stands on each edge of the fan reduce operating vibrations and noises to an absolute minimum.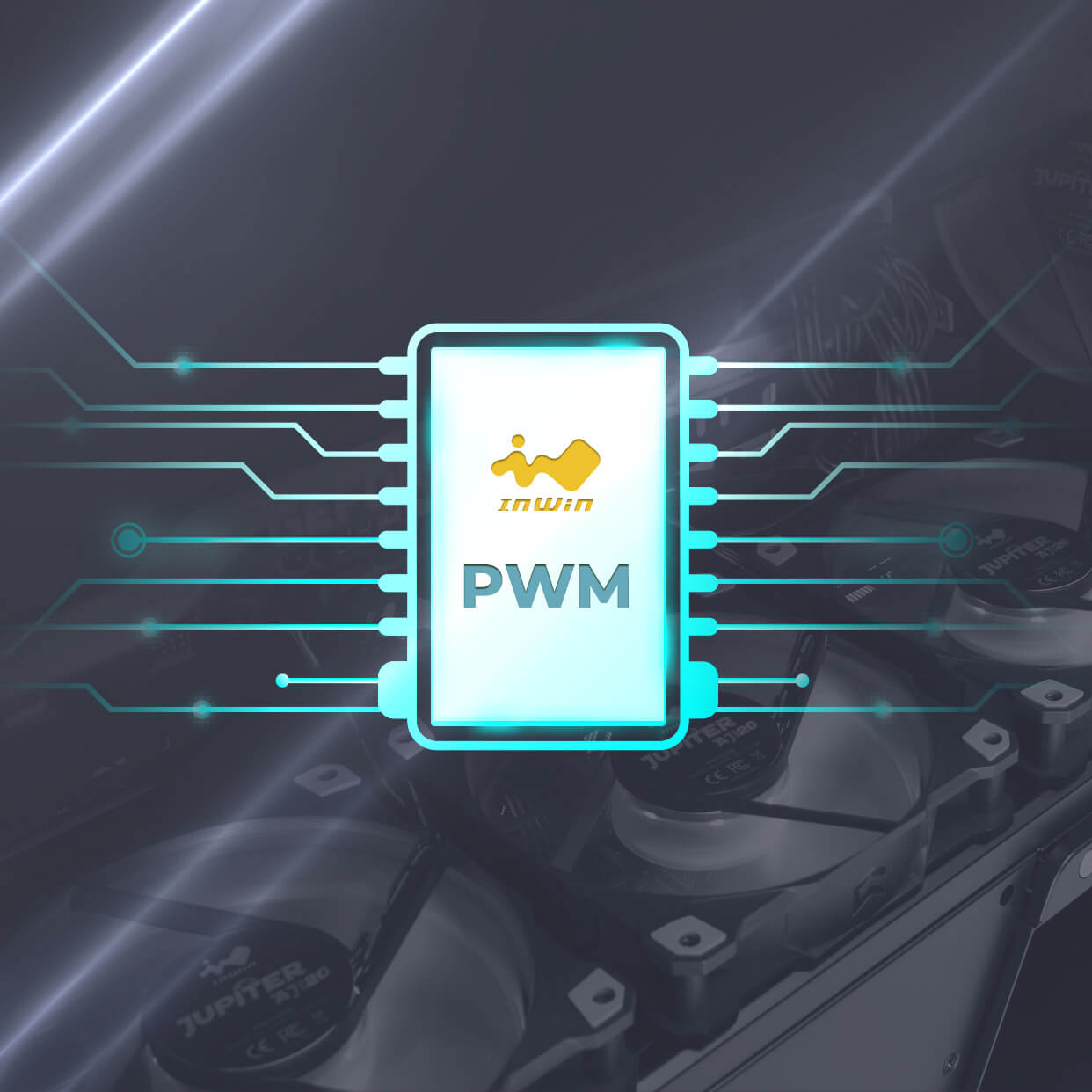 PWM Intelligent Cooling
The Jupiter fans possess PWM function to ensure your system won't overheat. Likewise, the fan speed will reduce on lower usage to maintain the longevity of the fans. Nice to have a guardian.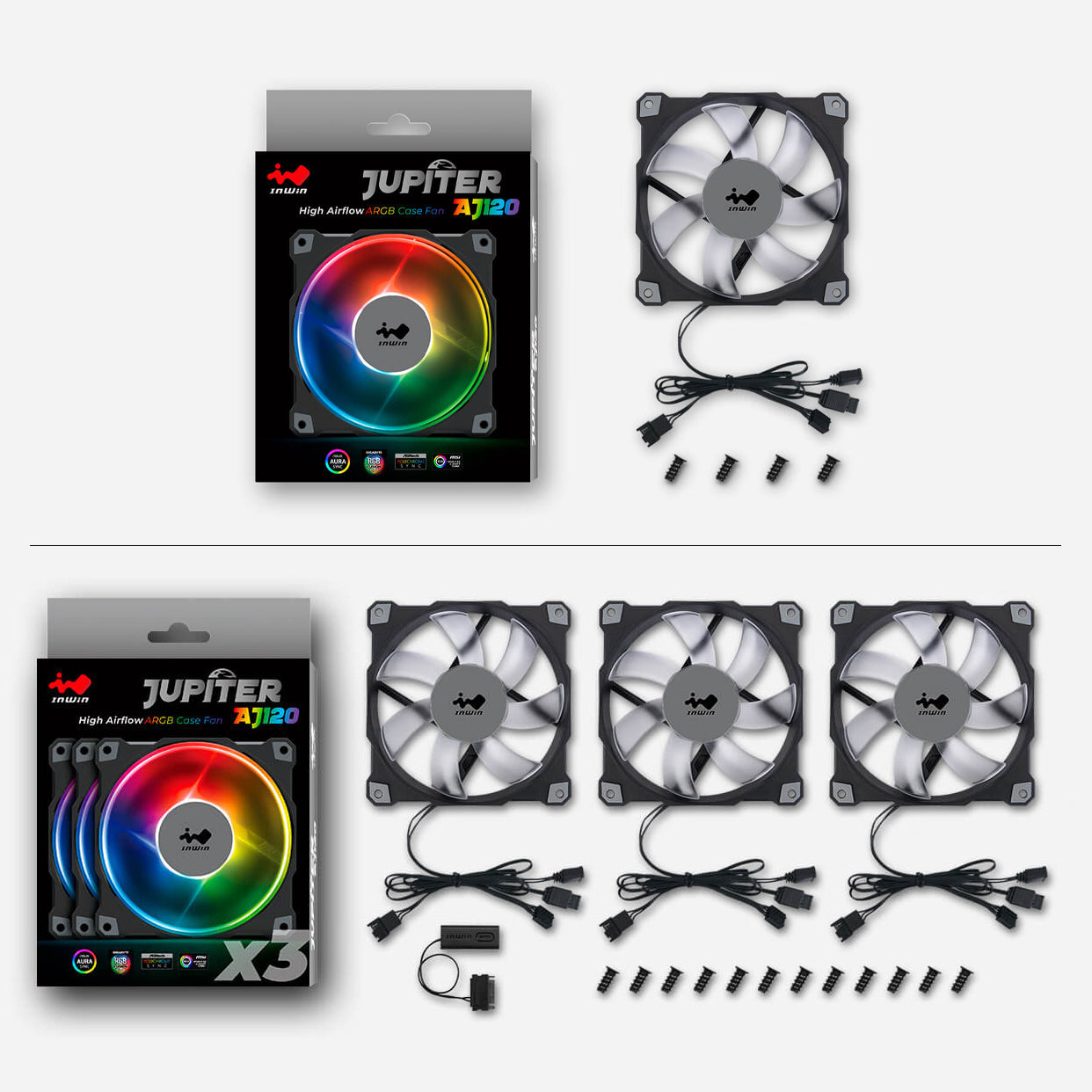 Components
1-Pack:
Jupiter AJ120 Fan x 1
Screws x 4

3-Pack:
Jupiter AJ120 Fans x 3
ARGB One-Click Controller x 1
Screws x 12
Download
Become a Fan of InWin's Case Fans!
InWin's case fans are both aesthetically pleasing and practical. There are different series of case fans that meet different user requirements. Some of InWin's fans are daisy-chainable and some are not. So, take a look and check out which InWin fans match your needs
Non-Modular Cable
4 Pin (PWM, 12V), 3 Pin (ARGB, 5V)

Sirius Loop

Jupiter Series

Sirius Pure

Luna AL120

Mercury AM120S

Sirius Extreme

Sirius Extreme Pure

Neptune AN Series

Neptune DN Series

Neptune DN PRO Series

Modular ARGB Type 1
6-Pin Modular (PWM + ARGB)

Aurora

EGO

Modular ARGB Type 2
6-Pin Modular (PWM + ARGB)

Crown Series

Saturn Series

Modular RGB
8-Pin Modular (PWM + RGB)

Polaris RGB Series

Polaris AluminumRGB Series
InWin's Fans Compatibility Note:
1. Do not chain up your fans with other fans in with different cables types.
2. ARGB fans and RGB fans are not compatible with each other.