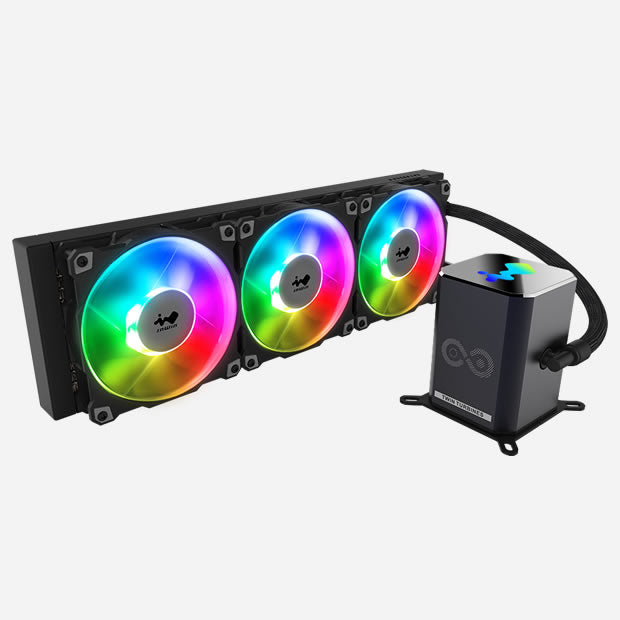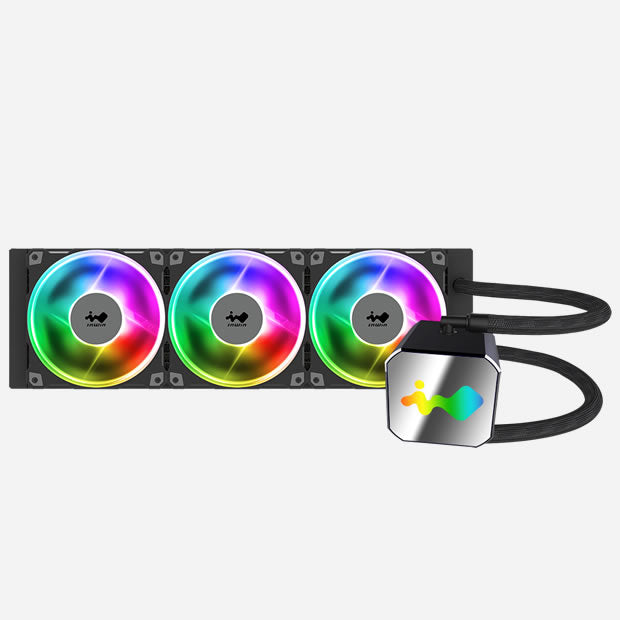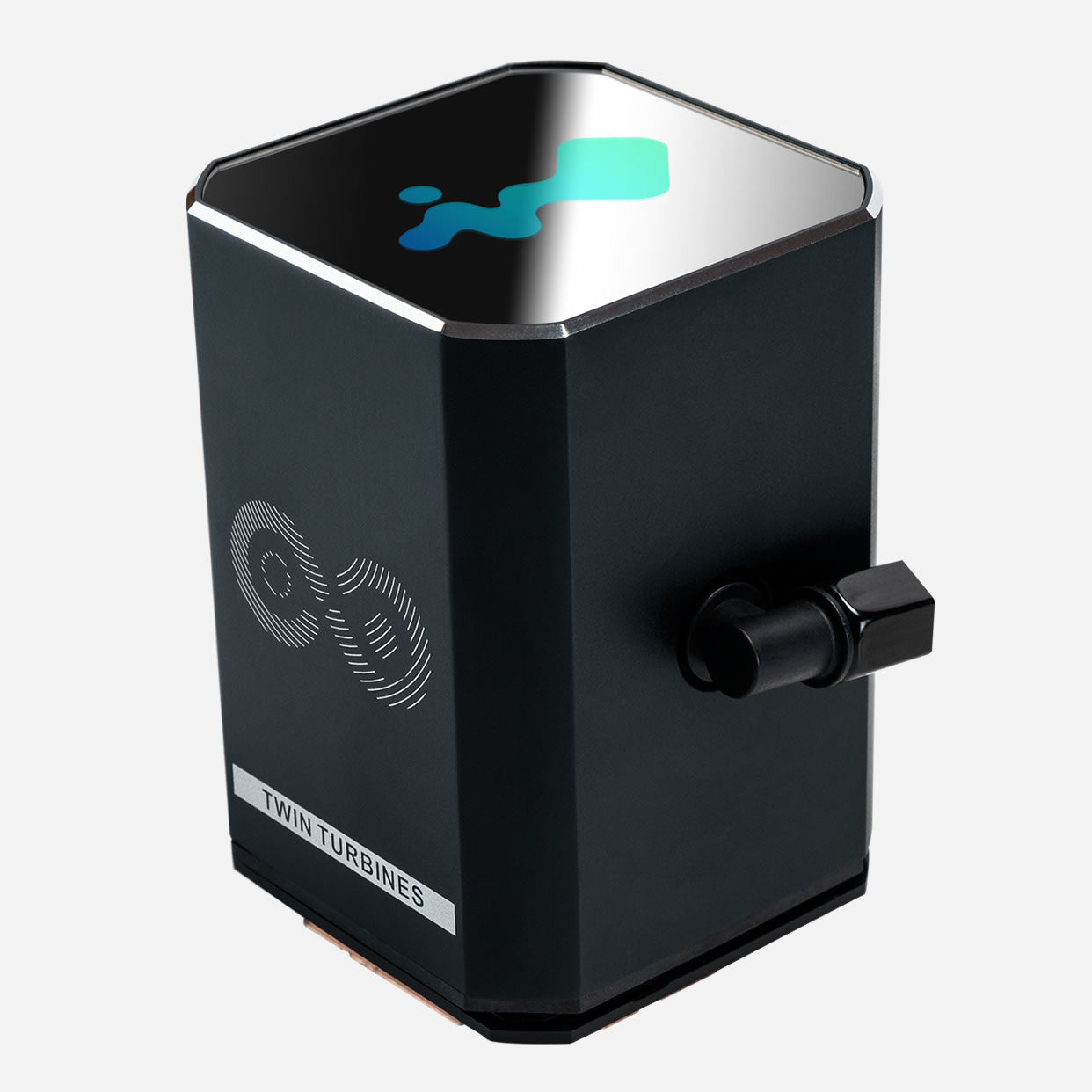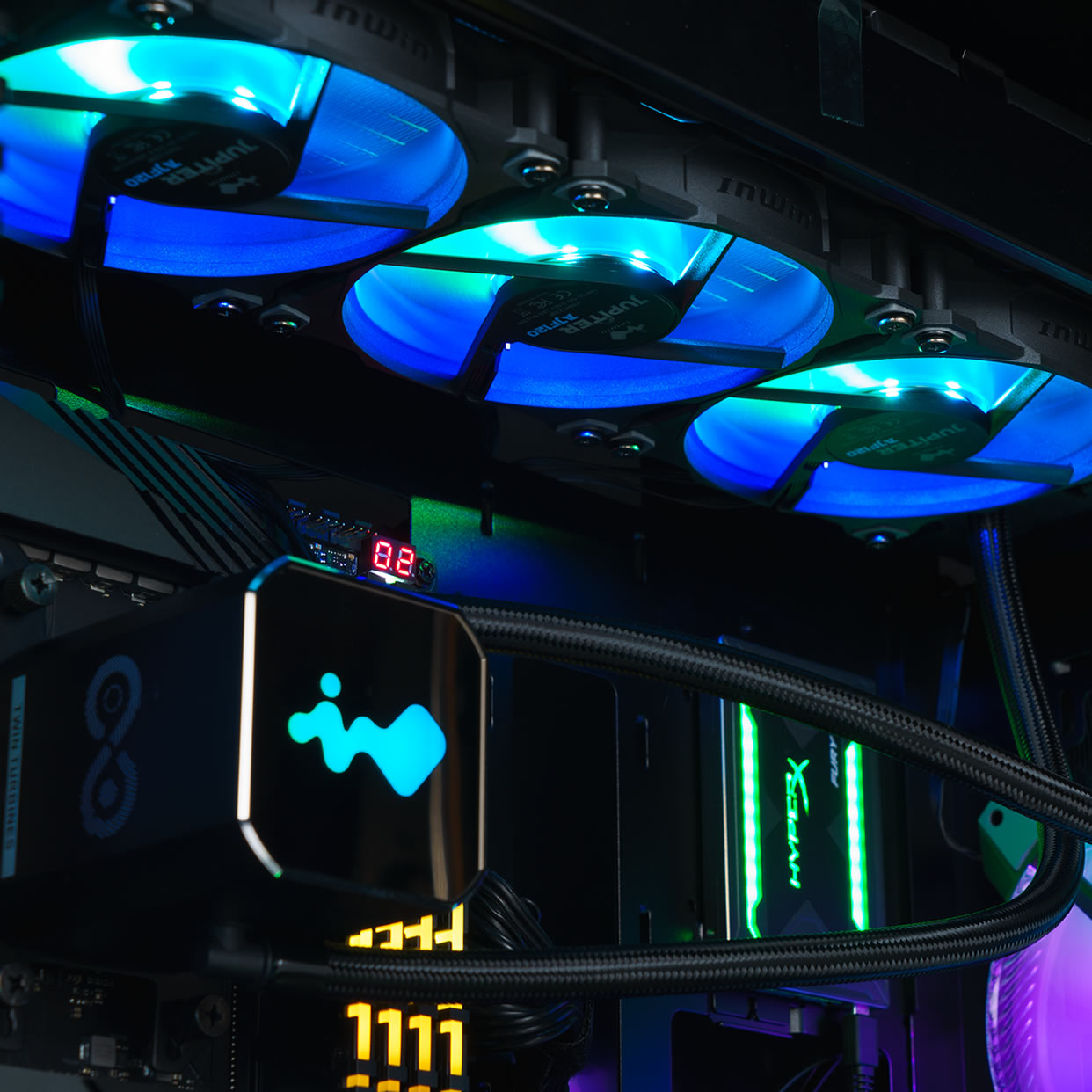 SR36 PRO
The SR PRO features patented twin-turbine pumps and static pressure fans for thermal optimization. Aluminium water block ornamented ARGB.
Specs
Model
SR36 PRO
Model Number
IW-LC-SR36PRO
CPU Socket Support
Intel® LGA 1200/ 2066/ 2011-V3/ 2011/ 1366/ 1156/ 1155/ 1151/ 1150
AMD® AM4/ AM3+/ AM3/ AM2+/ AM2/ FM2+/ FM2/ FM1/ TR4
Radiator
Dimensions
(L x W x H)
397 x 120 x 27 mm
15.6 x 4.7 x 1.1"
Materials
Aluminium
Tube Length
400 mm
Tube Material
Rubber with Nylon Braided Sleeve
Water Block & Pump
Dimensions
(L x W x H)
68 x 68 x 100 mm
2.7 x 2.7 x 3.9"
Materials
Aluminium, Copper, Acrylic
Pump Speed
2400 +/- 10% RPM
Fans
Model
Jupiter Series AJF120
Quantity Included
3 PCS
Dimensions
(L x W x H)
120 x 120 x 26 mm
4.7 x 4.7 x 1.0"
Speed Mode
PWM 500-2500 +/- 10% RPM
Noise Level
23 dB(A) (Normal)
Airflow
101.5 CFM
Static Pressure
4.22 mm / H2O
Connectors
4-Pin (12V, PWM),
3-Pin (5V, ARGB)
Bearing Type
Double Ball Bearing
Package Dimensions
(L x W x H)
459 x 244 x 142 mm
18.1 x 9.6 x 5.6"
Net Weight
2.2 kg / 4.85 lbs
Gross Weight
2.8 kg / 6.17 lbs
Warranty
5 Years
* InWin's products comply with RoHS regulation.
* Specifications may vary based on different regions.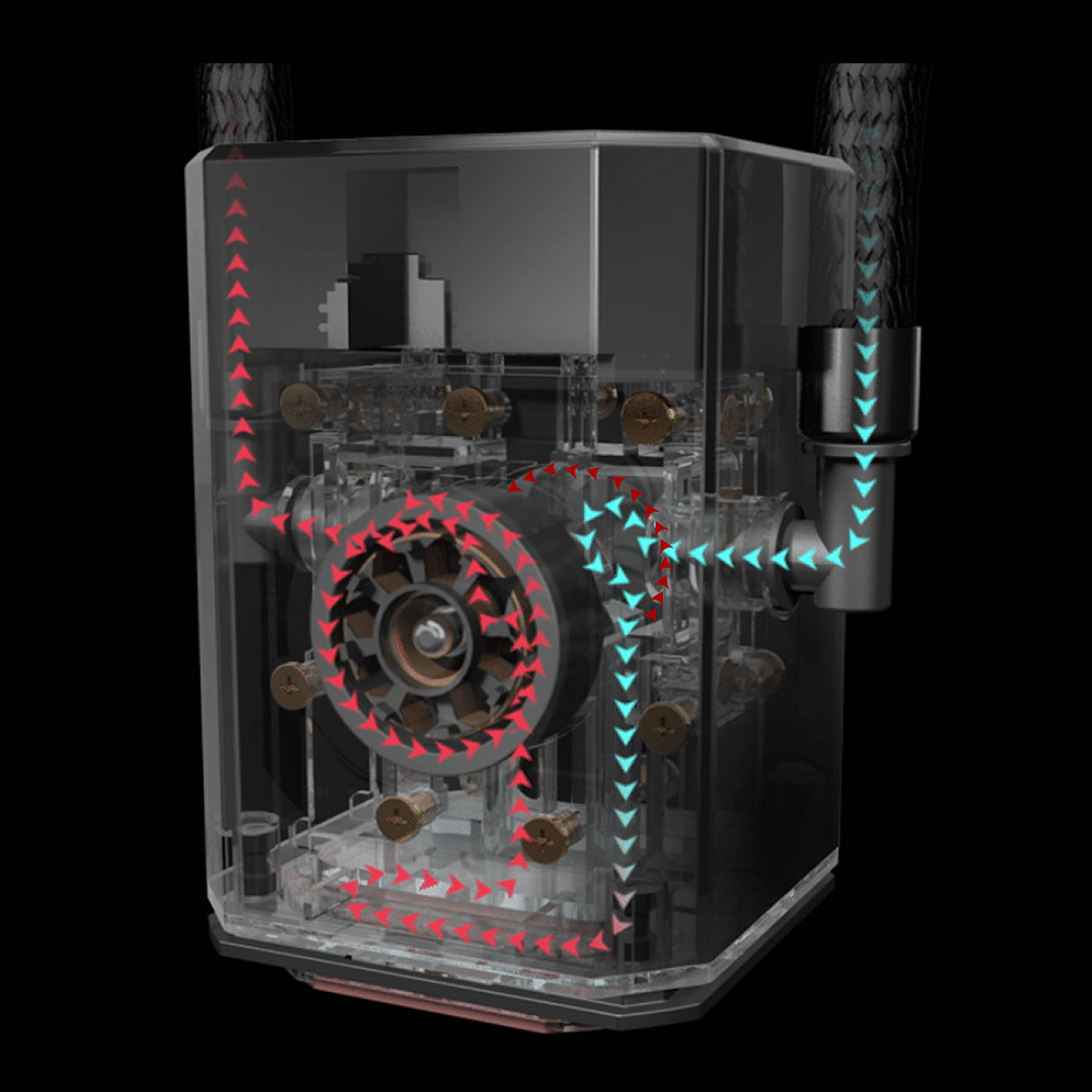 Double the Pumps, Double the Protection
The SR PRO Series possesses a patented internal twin-turbine, cooling your CPU faster and continues operating even if one pump fails.
Rock the Aluminium Block!
The gorgeous water block shell is made of high-quality, anodized aluminium, complemented with a diamond-cut outline, taking the design of the water block to a completely new level.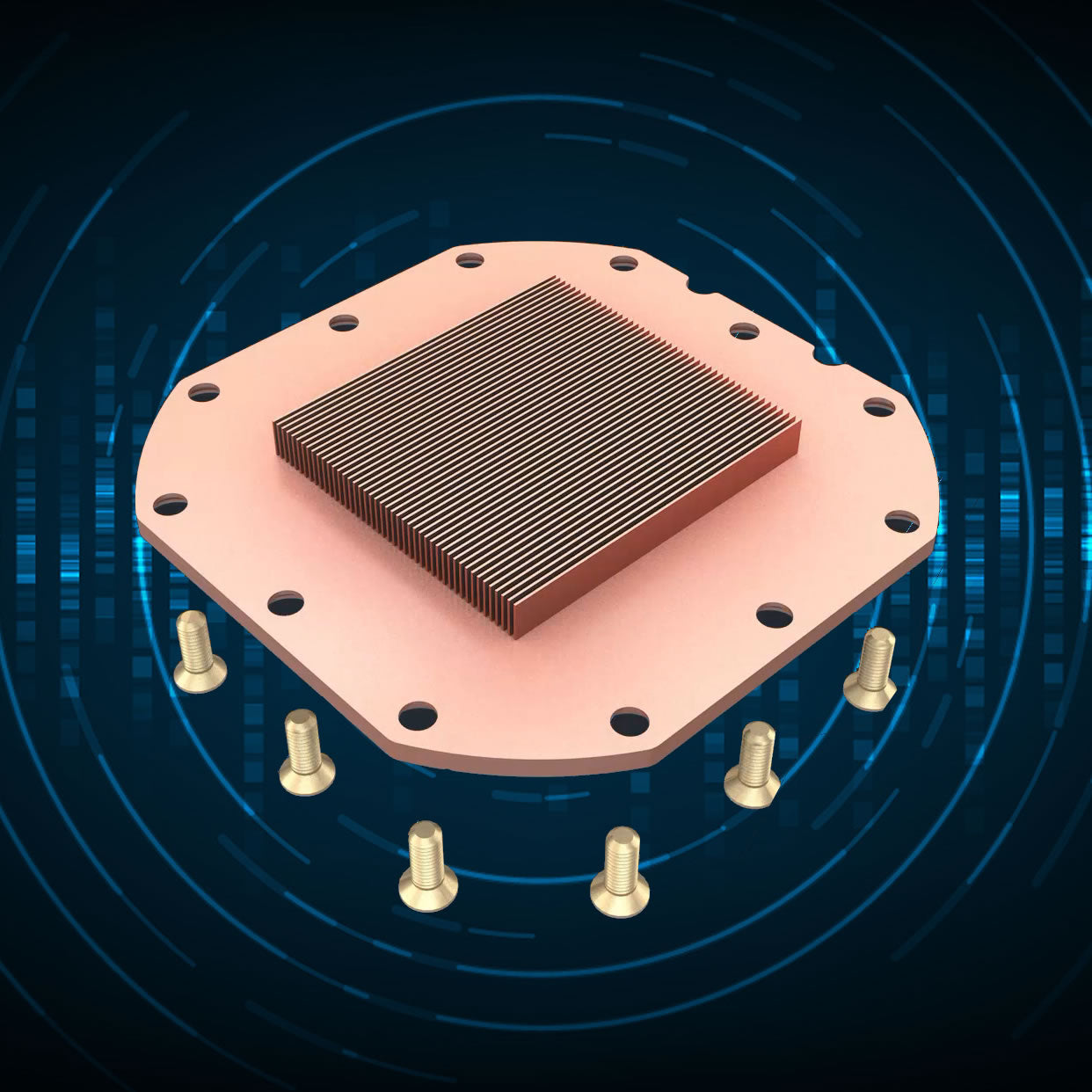 Cool Tech that Cools
InWin raised the heat dissipation area of the radiator and the array of microchannel fins up 55%, increasing the heat-conducting efficiency!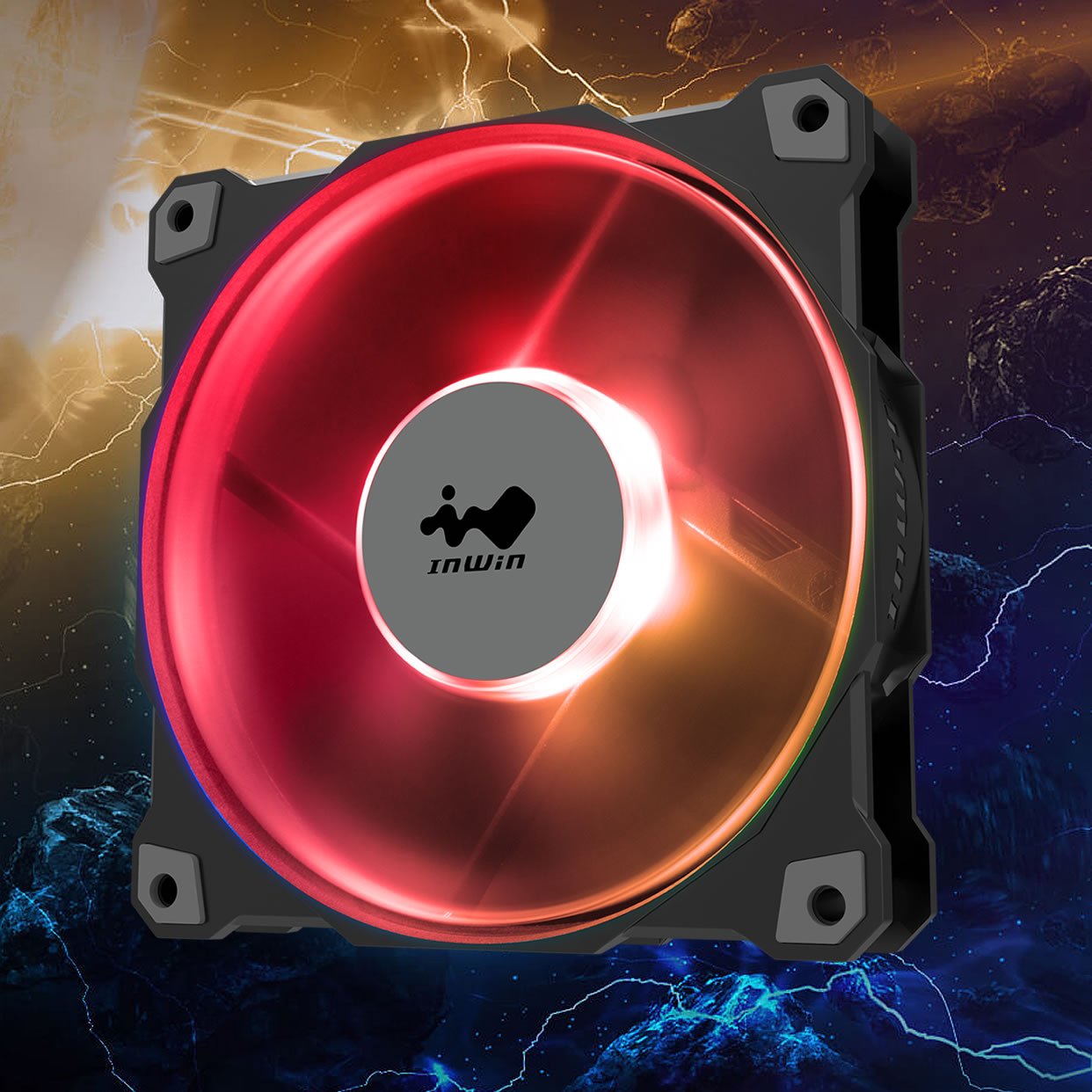 Thriving Under Pressure
The Jupiter Series AJF120 fans feature high airflow, high static pressure and possess a 2500-RPM, high-speed mode to reach efficient cooling. It's also specially designed to suppress noise pollution.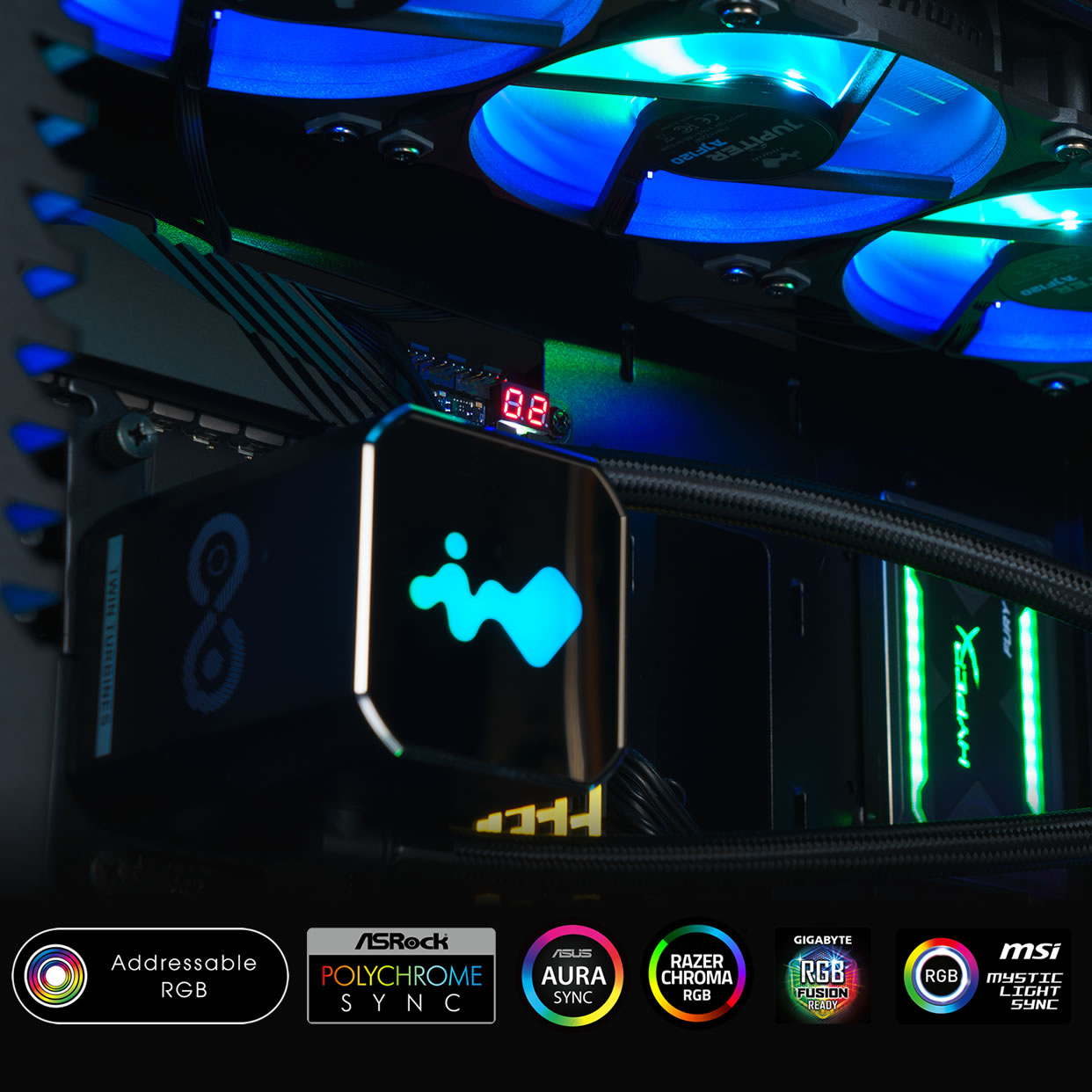 Cue the Lights!
Enjoy the vibrant ARGB lights that bleed through the mirror-gloss finished water block and the Jupiter AJF120 ARGB fans. Simply sync with an ARGB motherboard or control the lighting by using the provided One-Click controller.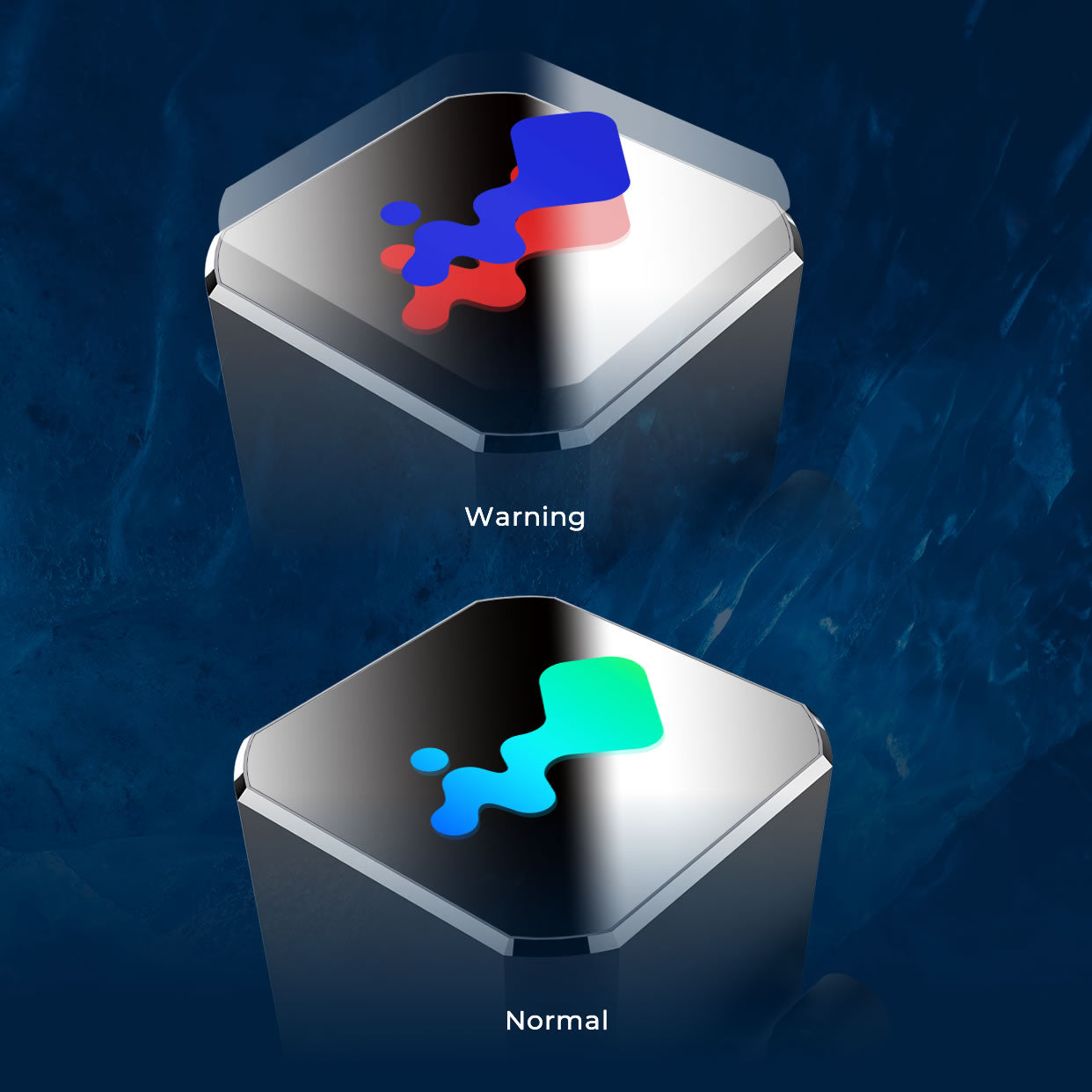 Safety First!
The designated LED InWin Logo will flash red and blue to notify users of unusual currents or excessive heat.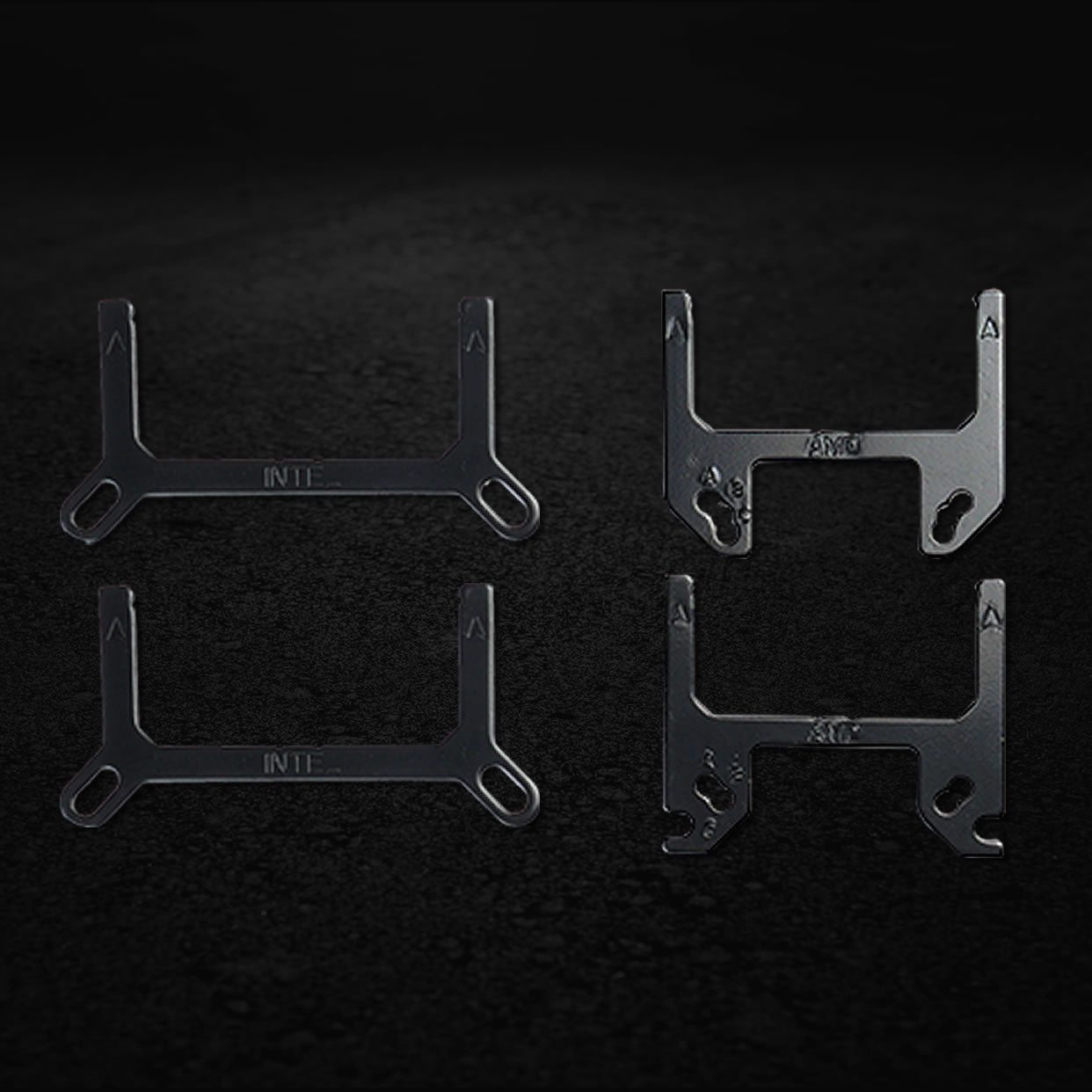 Simplified CPU Cooling Installation
The modular, tool-free mounting bracket is designed for quick and painless installation on all major CPU sockets. Compatible with most Intel and AMD CPUs, making installation hassle-free.
* To enhance the building experience, we've partnered with Alphacool to utilize their patented CPU modular mounting bracket design.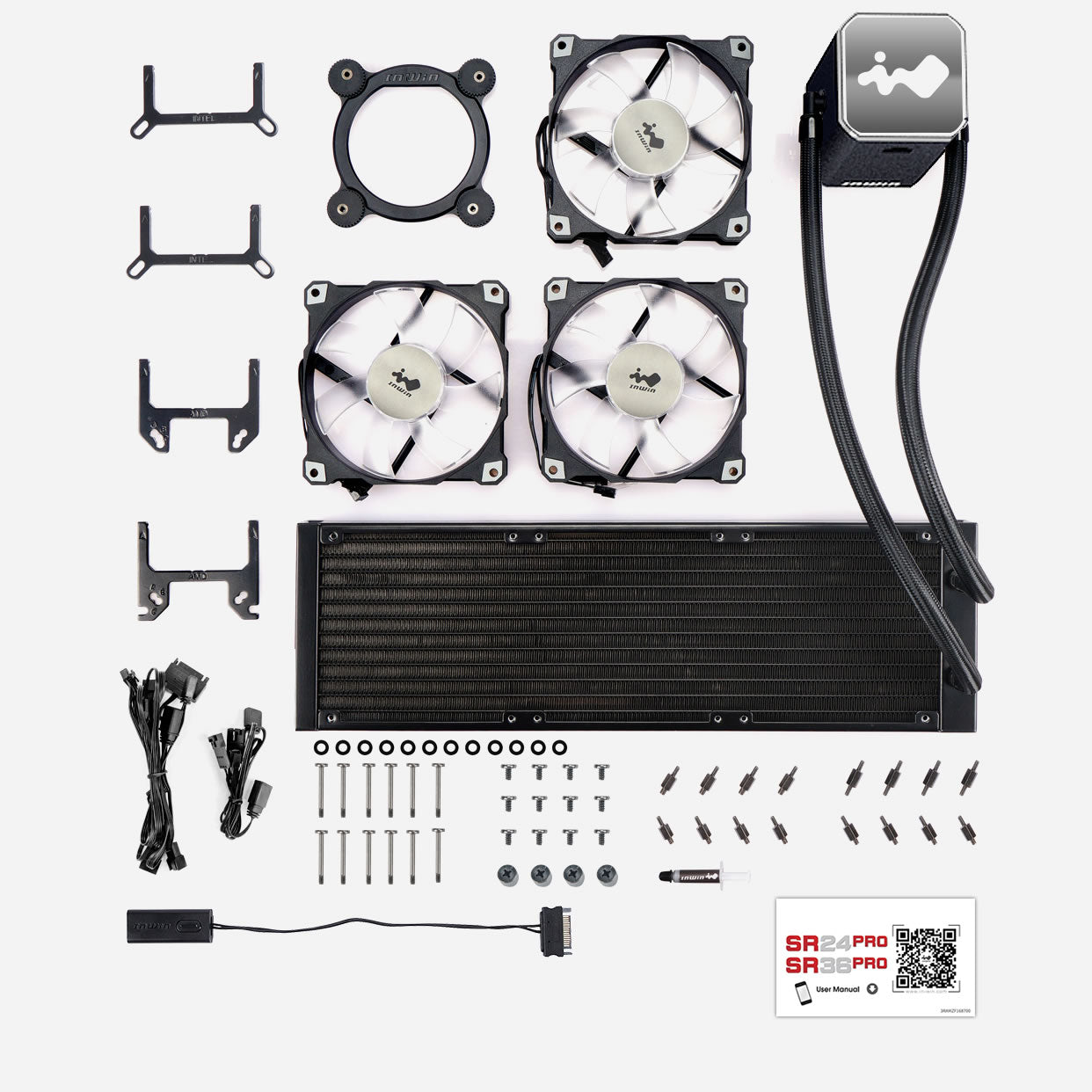 Components
SR36 PRO CPU Liquid Cooler x 1
Jupiter AJF120 Addressable Fans x 3
QR Code Card x 1
ARGB One-Click Controller x 1
Accessories Bag x 1
Download
Become a Fan of InWin's Case Fans!
InWin's case fans are both aesthetically pleasing and practical. There are different series of case fans that meet different user requirements. Some of InWin's fans are daisy-chainable and some are not. So, take a look and check out which InWin fans match your needs
Non-Modular Cable
4 Pin (PWM, 12V), 3 Pin (ARGB, 5V)

Sirius Loop

Jupiter Series

Sirius Pure

Luna AL120

Mercury AM120S

Sirius Extreme

Sirius Extreme Pure

Neptune AN Series

Neptune DN Series

Neptune DN PRO Series

Modular ARGB Type 1
6-Pin Modular (PWM + ARGB)

Aurora

EGO

Modular ARGB Type 2
6-Pin Modular (PWM + ARGB)

Crown Series

Saturn Series

Modular RGB
8-Pin Modular (PWM + RGB)

Polaris RGB Series

Polaris AluminumRGB Series
InWin's Fans Compatibility Note:
1. Do not chain up your fans with other fans in with different cables types.
2. ARGB fans and RGB fans are not compatible with each other.