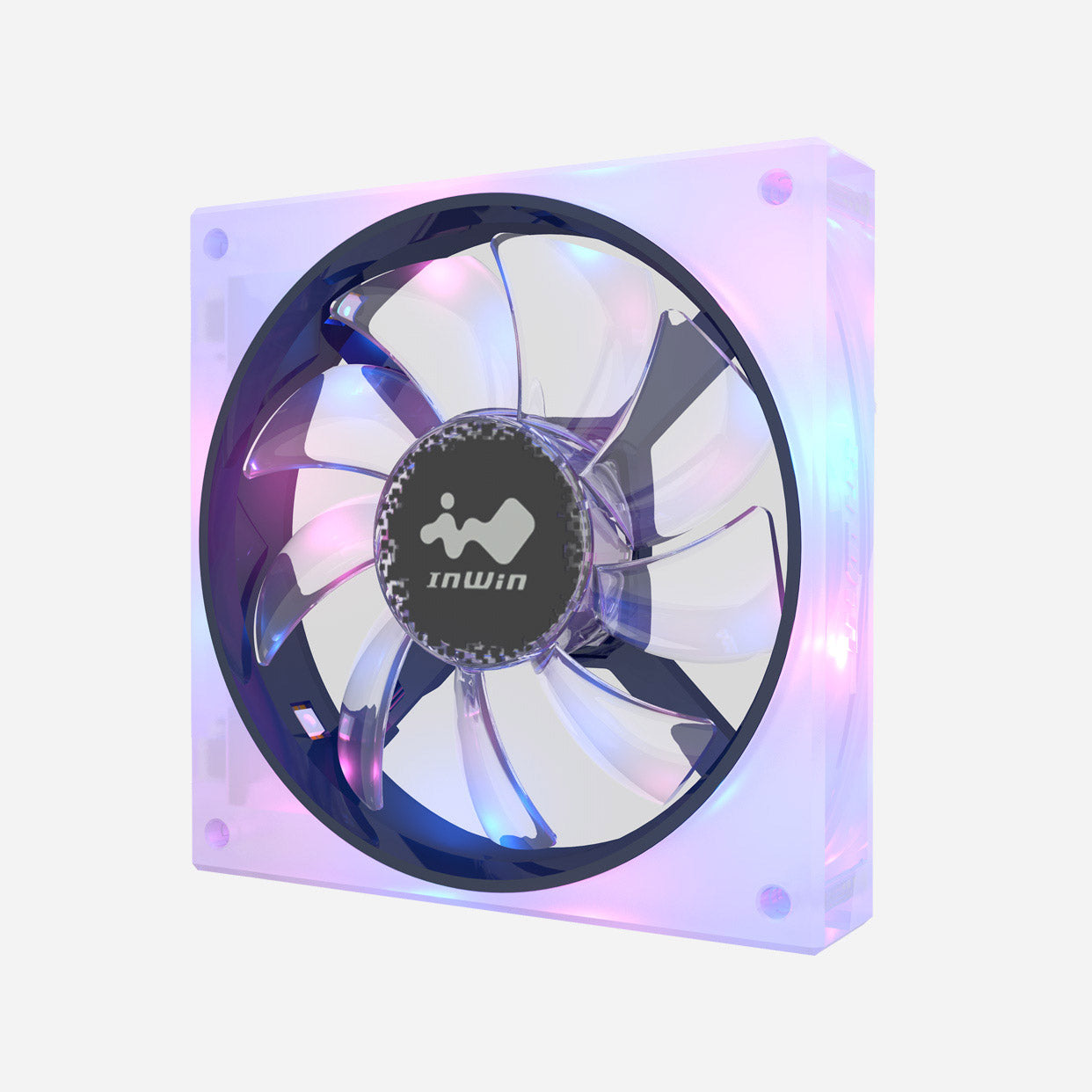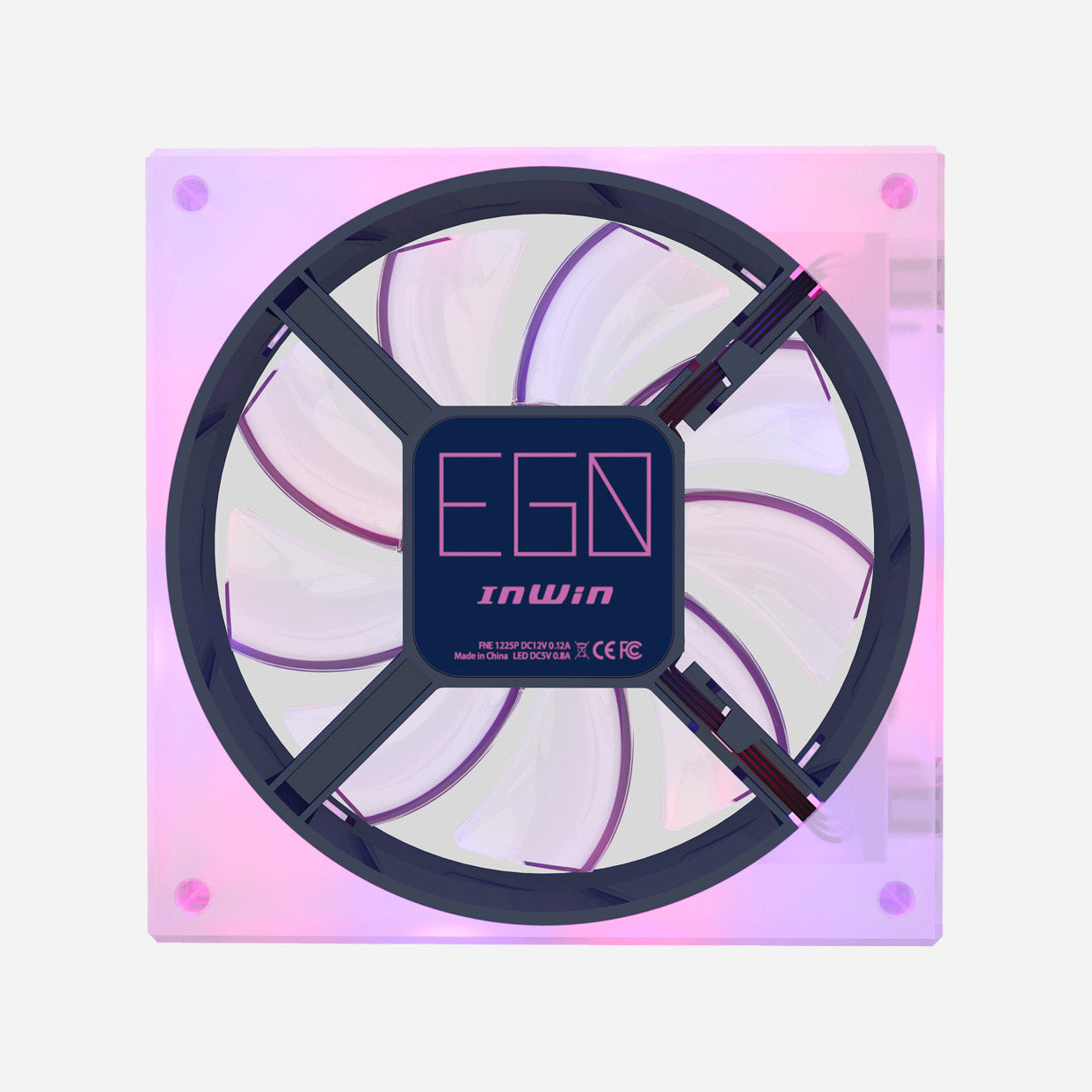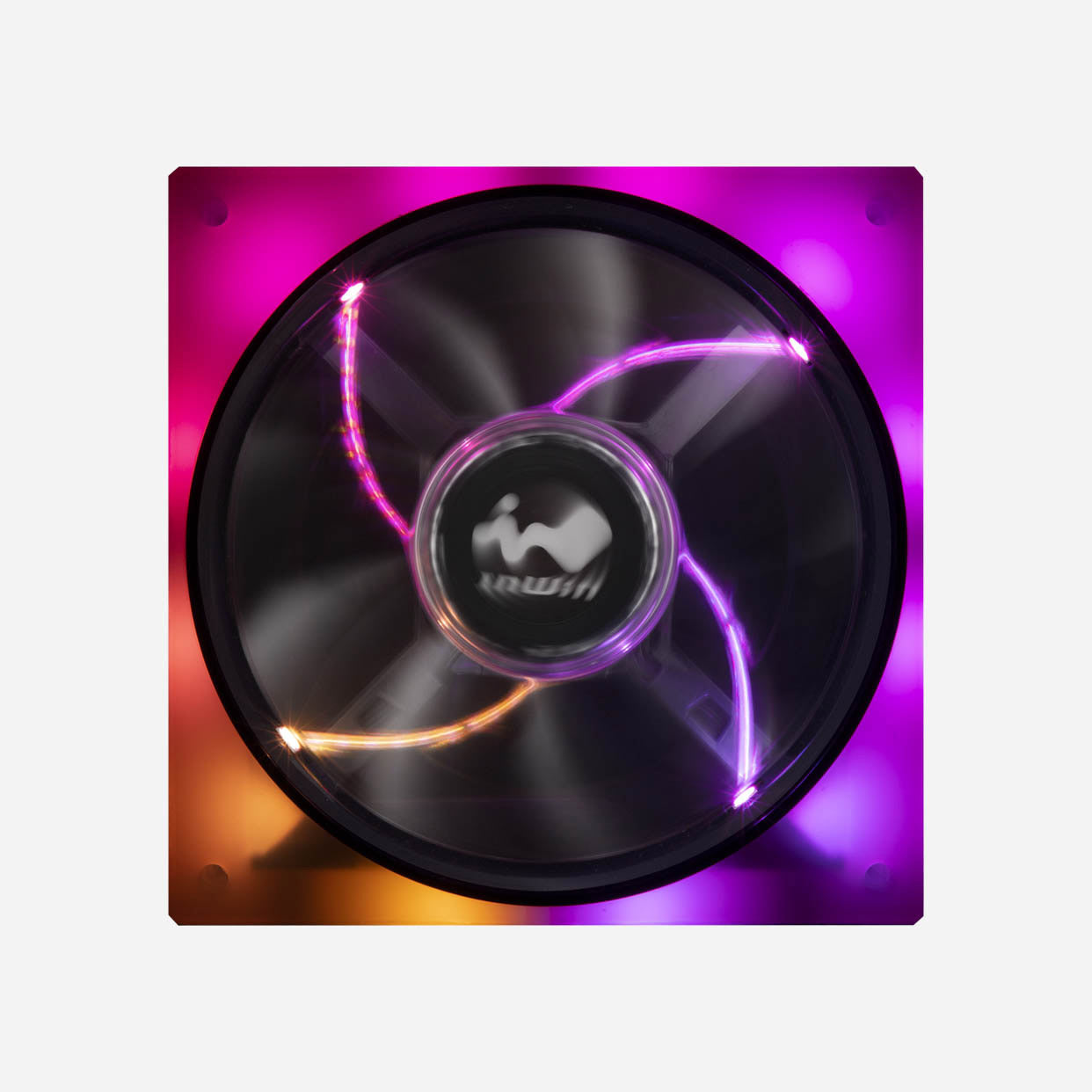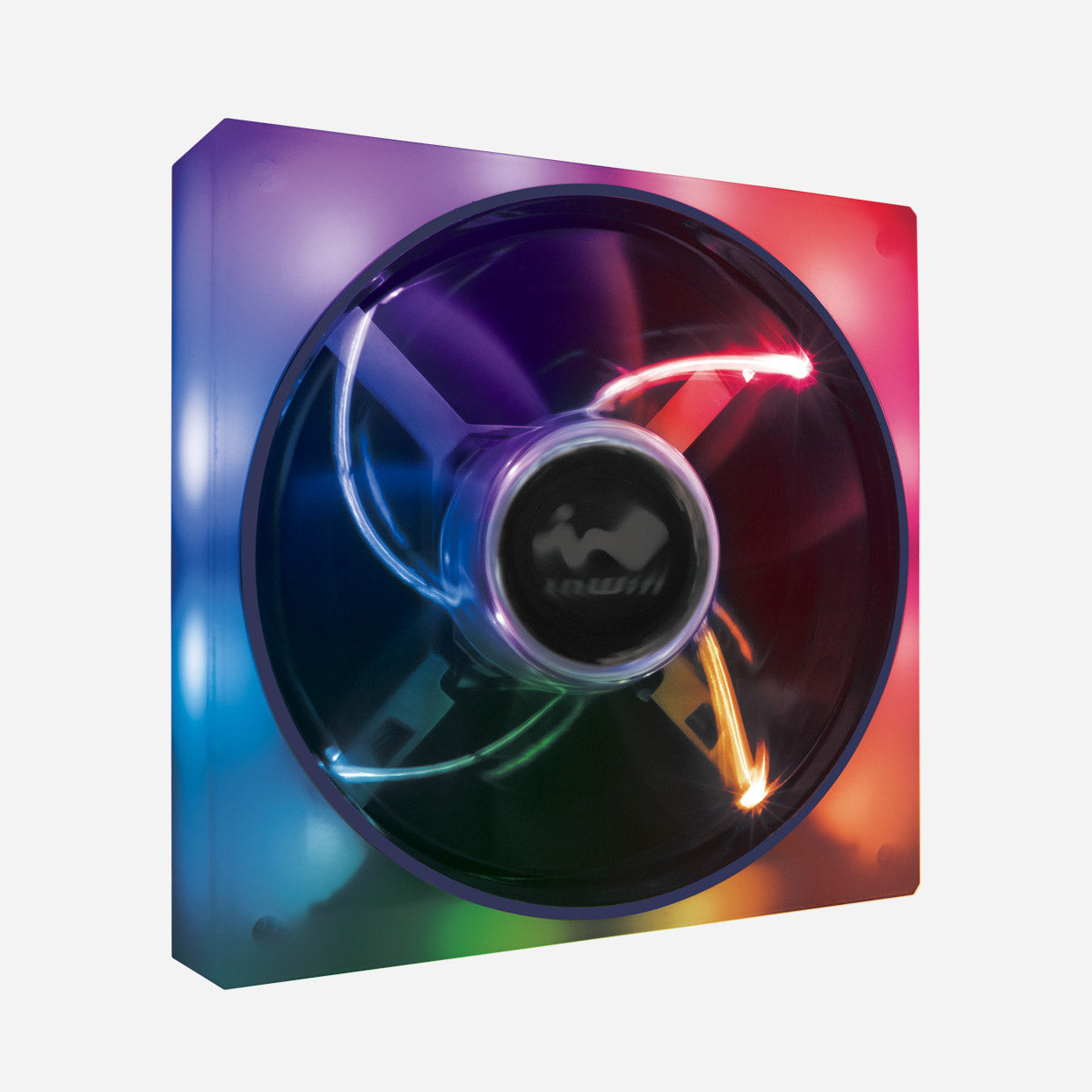 EGO AE120
The EGO fan features a silicon frame and a total of 16 ARGB LEDs which present a softer visual effect. Turbo mode maxes out at 2000 RPMs.

Important Notice : EGO fan only compatible with 309.
ARGB Lighting Effect

Patented Modular Connector Design

PWM Cooling Design

Toolless Screws for Easier Installation
Specs
Model
EGO AE120
Model Number
AE120FAN-1PK
Fan Size
120 x 120 x 25 mm
Materials
Silicone, PC
Rated Voltage
DC 12V
Rated Power
0.76W
Rated Current
0.06A
ADD RGB Rated Voltage
DC 5V
ADD RGB Rated Power
4W
ADD RGB Rated Current
0.8A
Speed Mode
PWM 800 - 1400 RPM
Turbo Mode: 2000 RPM (Max.)
Air Flow
40.7 CFM
Turbo Mode: 58.05 CFM
Air Pressure
1.51 mm / H2O
Turbo Mode: 2.74 mm / H2O
LED
Addressable RGB LED x 16
Connector (Fan to Fan)
6-Pin Modular
Noise Level
22 dB(A) (Normal)
Turbo Mode: 32 dB(A) (Max.)
Bearing Type
Sleeve Bearing
Net Weight

210 

g / 0.5 lbs
Package Dimensions (L x W x H)
125 x 30 x 185 mm
4.9 x 1.2 x 7.3"
Warranty
2 Years
* InWin's products comply with RoHS regulation.
* Specifications may vary based on different regions.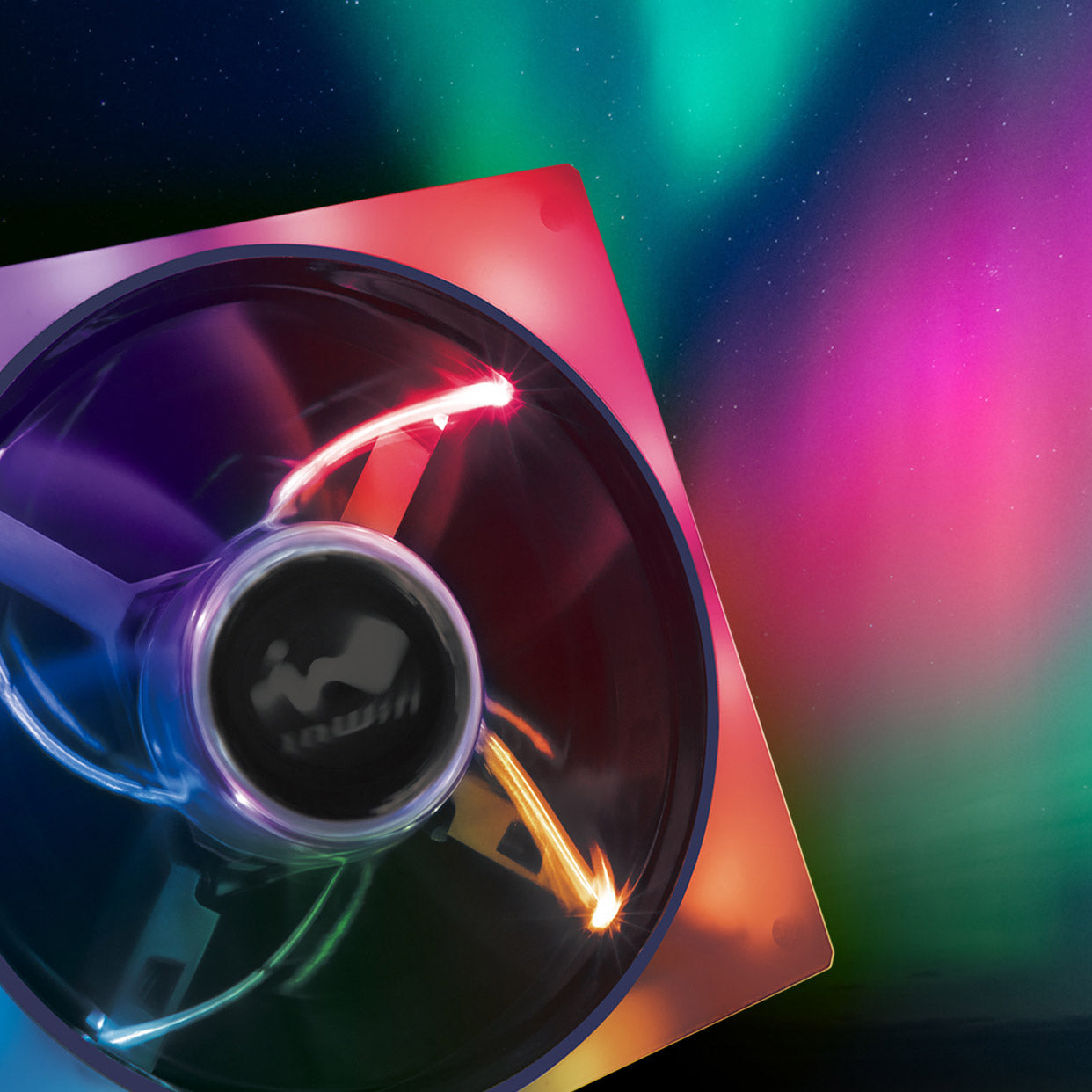 LED by Color
Expression is limitless in a colorful world. Therefore, it's ok to possess an EGO.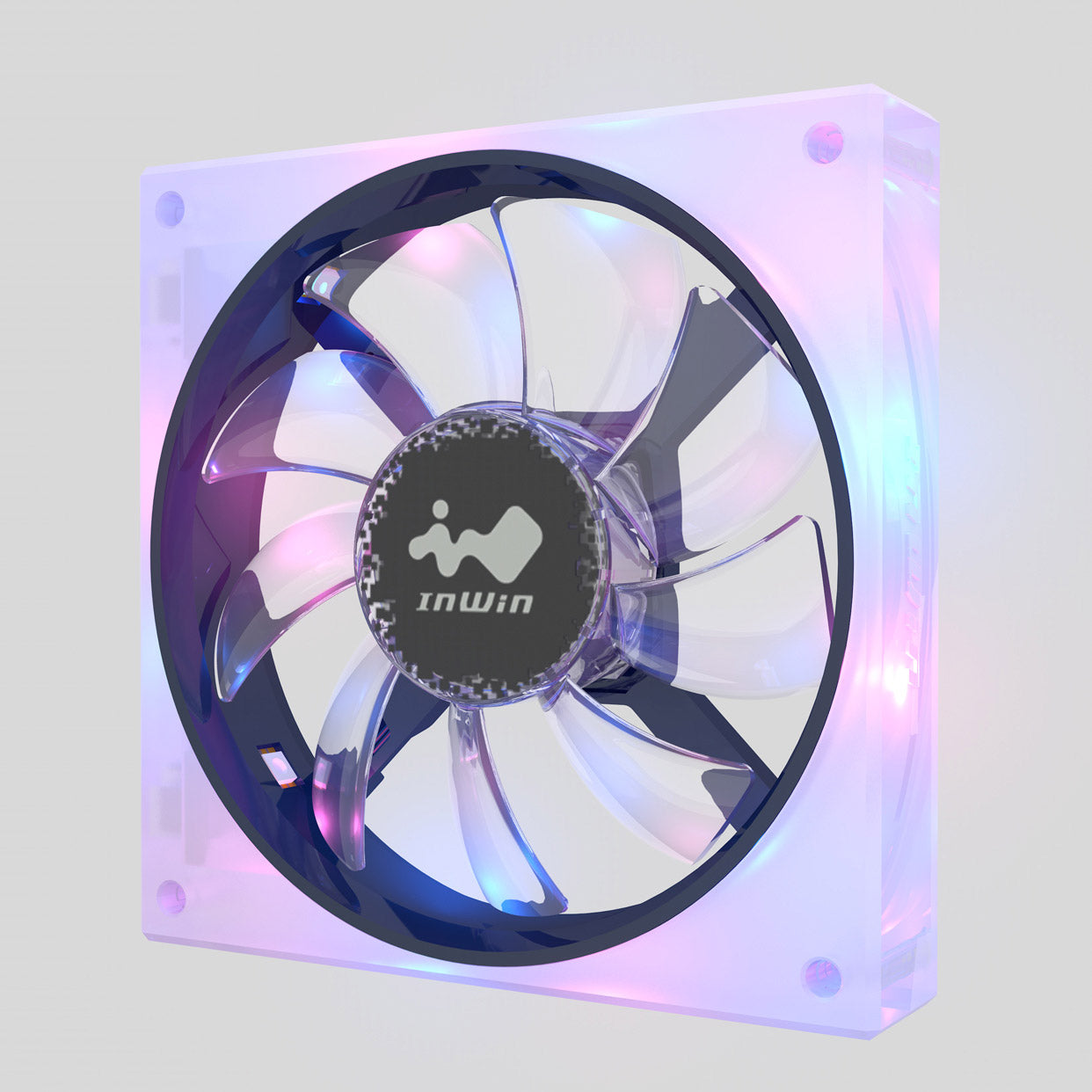 Watch Your Tones!
The silicone frame offers unique, lighter tones to the EGO fans to create softer lighting options to your PC build.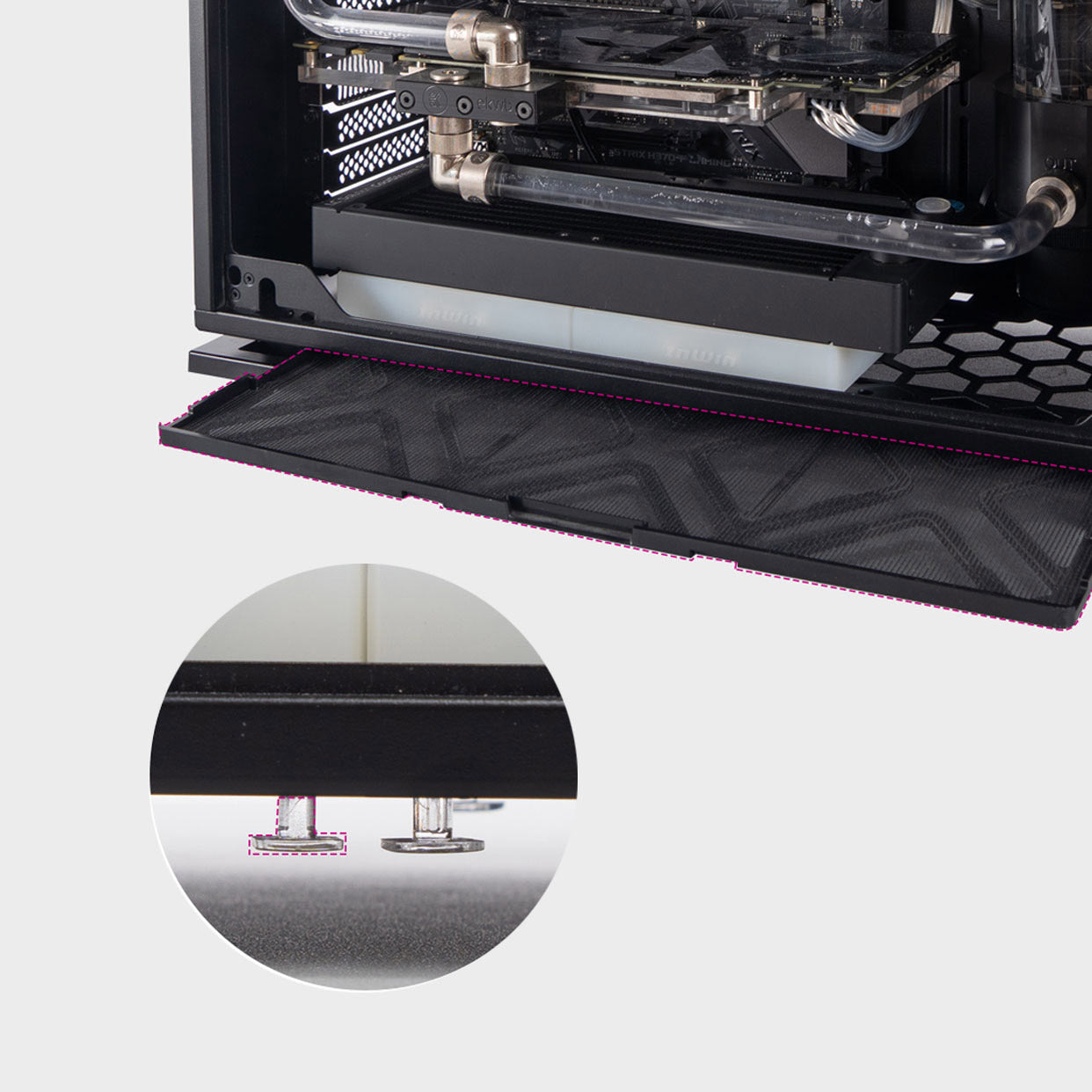 * To achieve the best thermal performance, assembling EGO fans along with a slim radiator is highly recommended for the thermal solution at the bottom.
* You must remove the bottom dust filter to install the EGO fans properly at the bottom.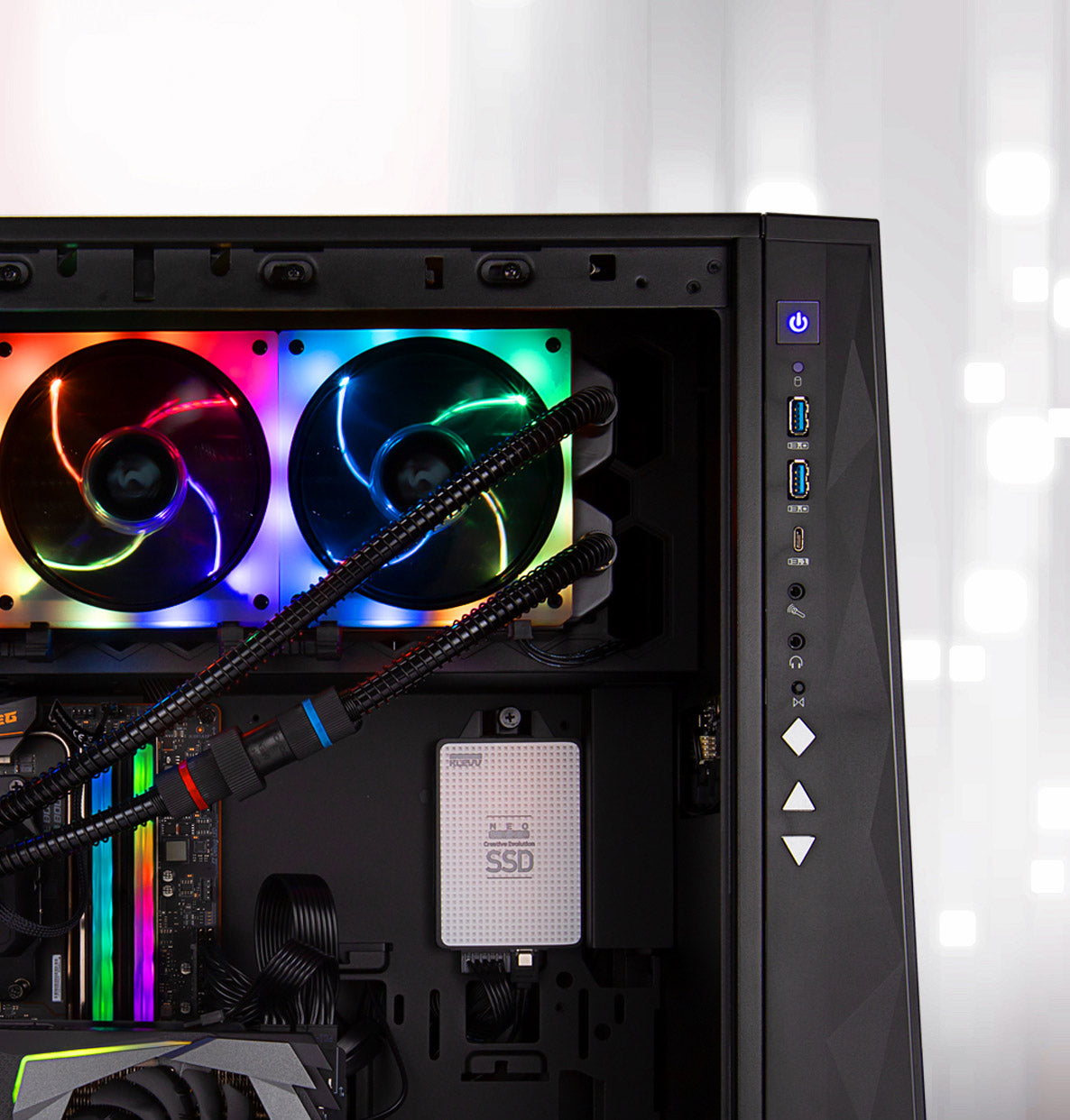 NEVER ENOUGH LEDS!!!
The EGO fans possess a total of 16 LED lights throughout the fan. Indulge by looking at the pretty lights.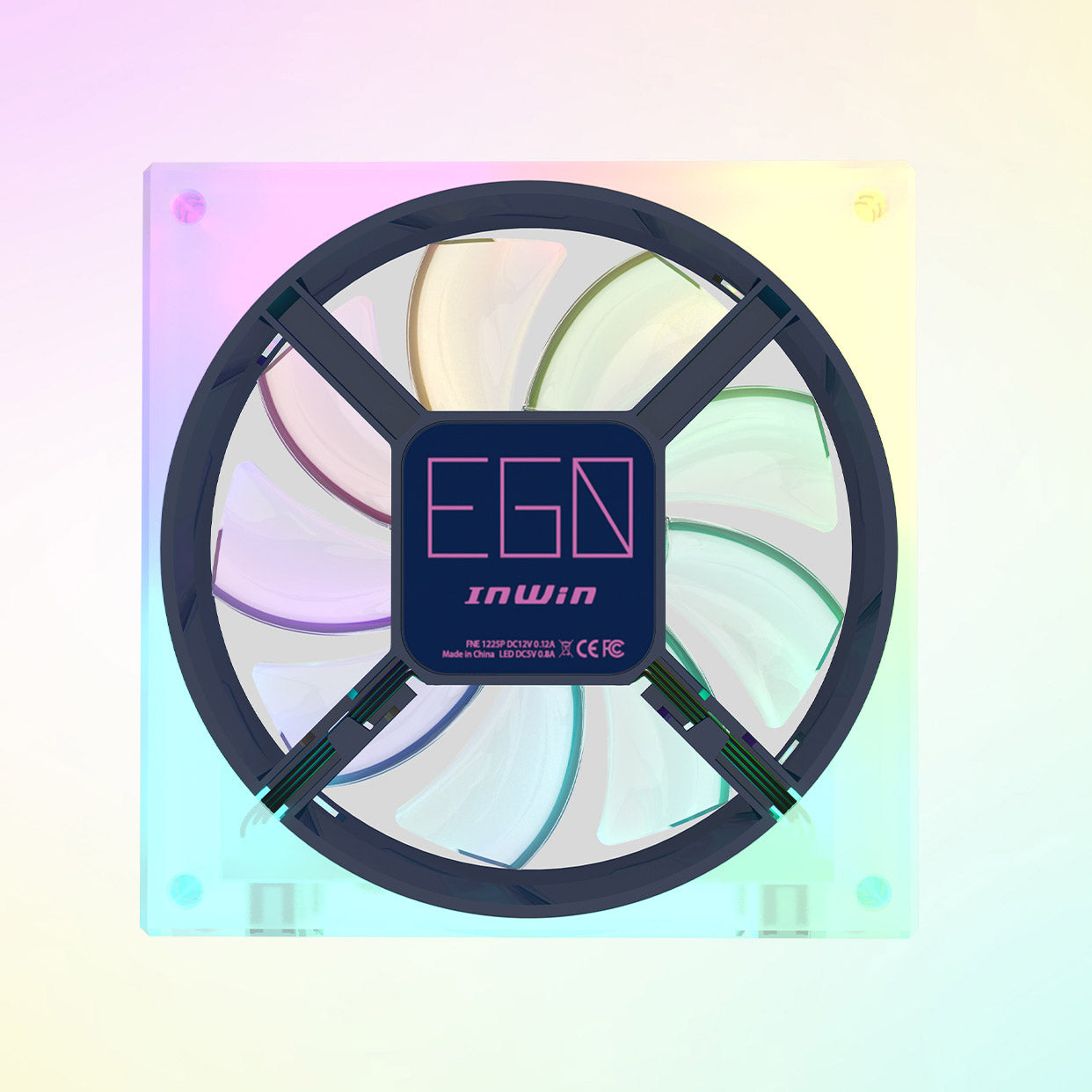 Queue Up!
Get in line with the patented, modular connector design for easy cable management.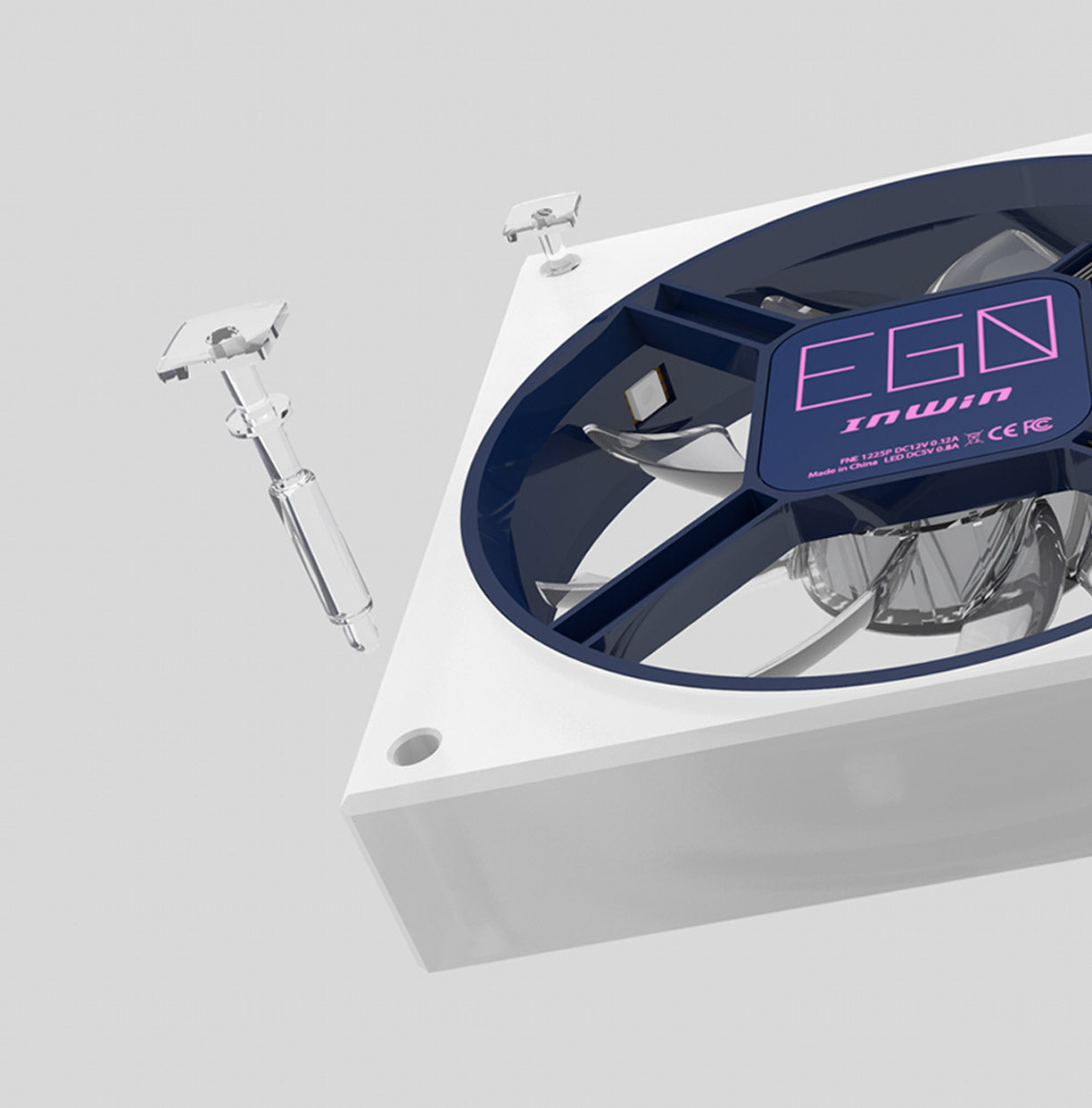 Simplifying Installation
With the tool-less pegs, installation is made even easier!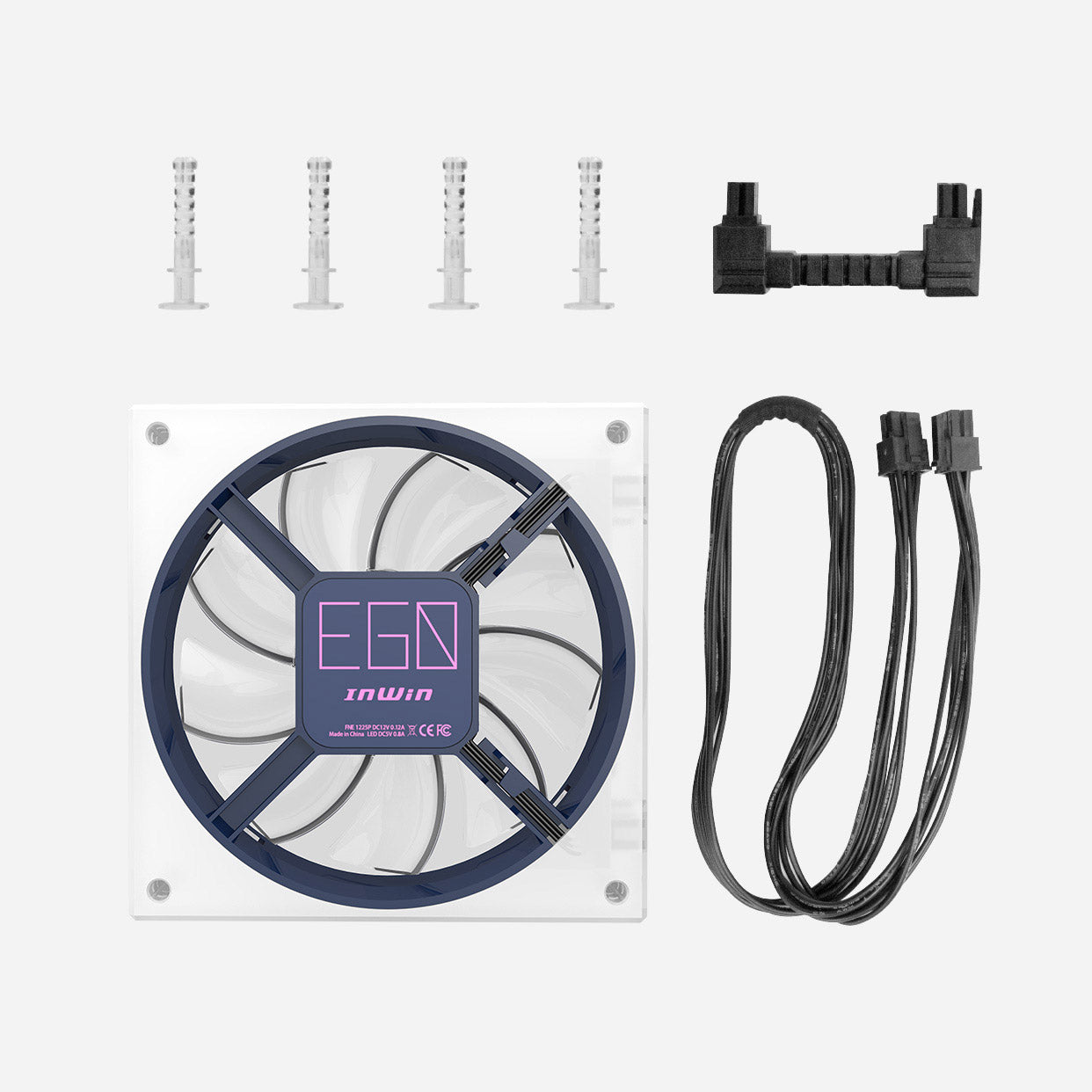 Components
EGO Fans x 1
Screws x 4
6-6 Pin Short Connecting Wire x 1
6-6 Pin Long Connecting Wire x 1
Download
Become a Fan of InWin's Case Fans!
InWin's case fans are both aesthetically pleasing and practical. There are different series of case fans that meet different user requirements. Some of InWin's fans are daisy-chainable and some are not. So, take a look and check out which InWin fans match your needs
Non-Modular Cable
4 Pin (PWM, 12V), 3 Pin (ARGB, 5V)

Sirius Loop

Jupiter Series

Sirius Pure

Luna AL120

Mercury AM120S

Sirius Extreme

Sirius Extreme Pure

Neptune AN Series

Neptune DN Series

Neptune DN PRO Series

Modular ARGB Type 1
6-Pin Modular (PWM + ARGB)

Aurora

EGO

Modular ARGB Type 2
6-Pin Modular (PWM + ARGB)

Crown Series

Saturn Series

Modular RGB
8-Pin Modular (PWM + RGB)

Polaris RGB Series

Polaris AluminumRGB Series
InWin's Fans Compatibility Note:
1. Do not chain up your fans with other fans in with different cables types.
2. ARGB fans and RGB fans are not compatible with each other.