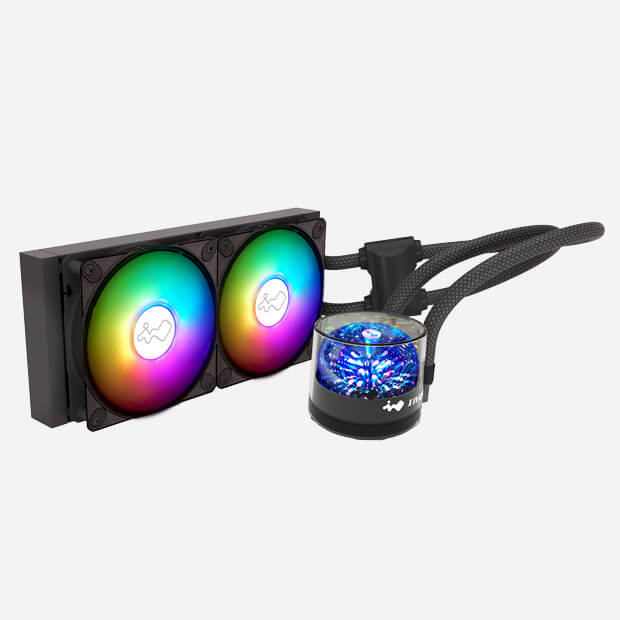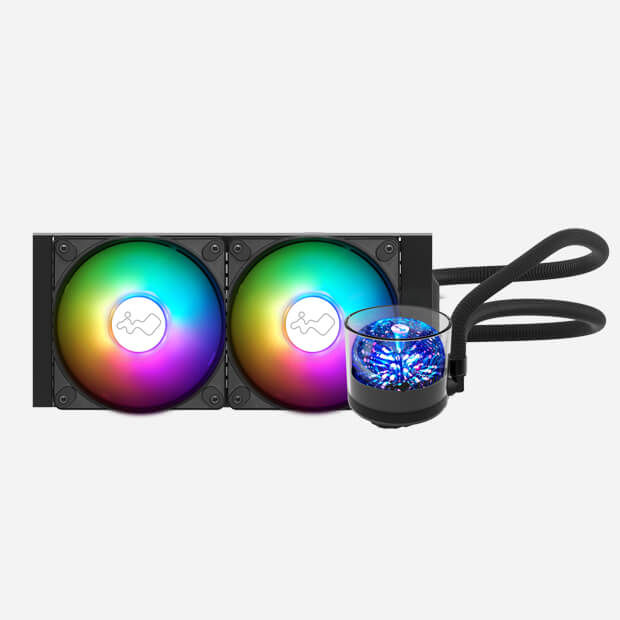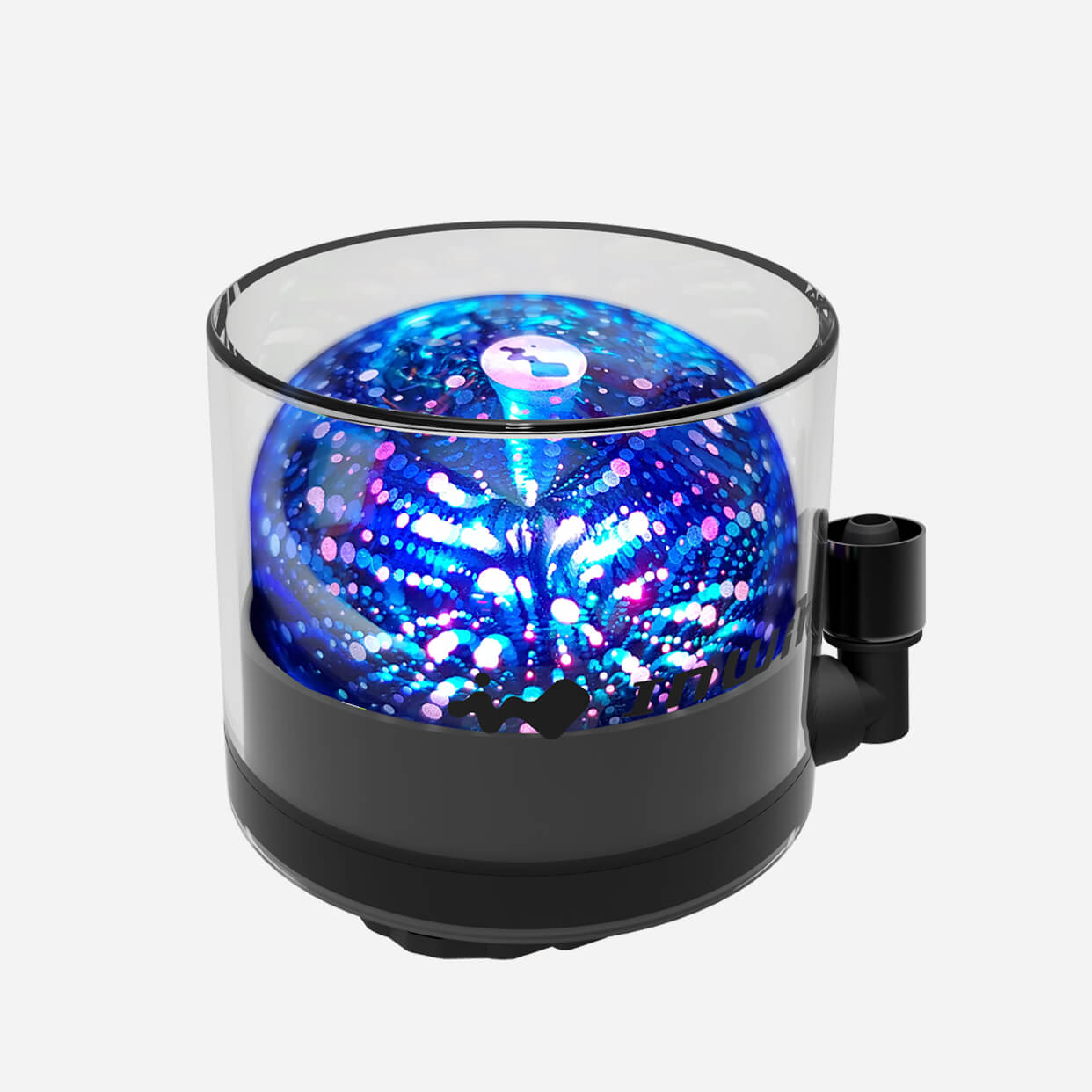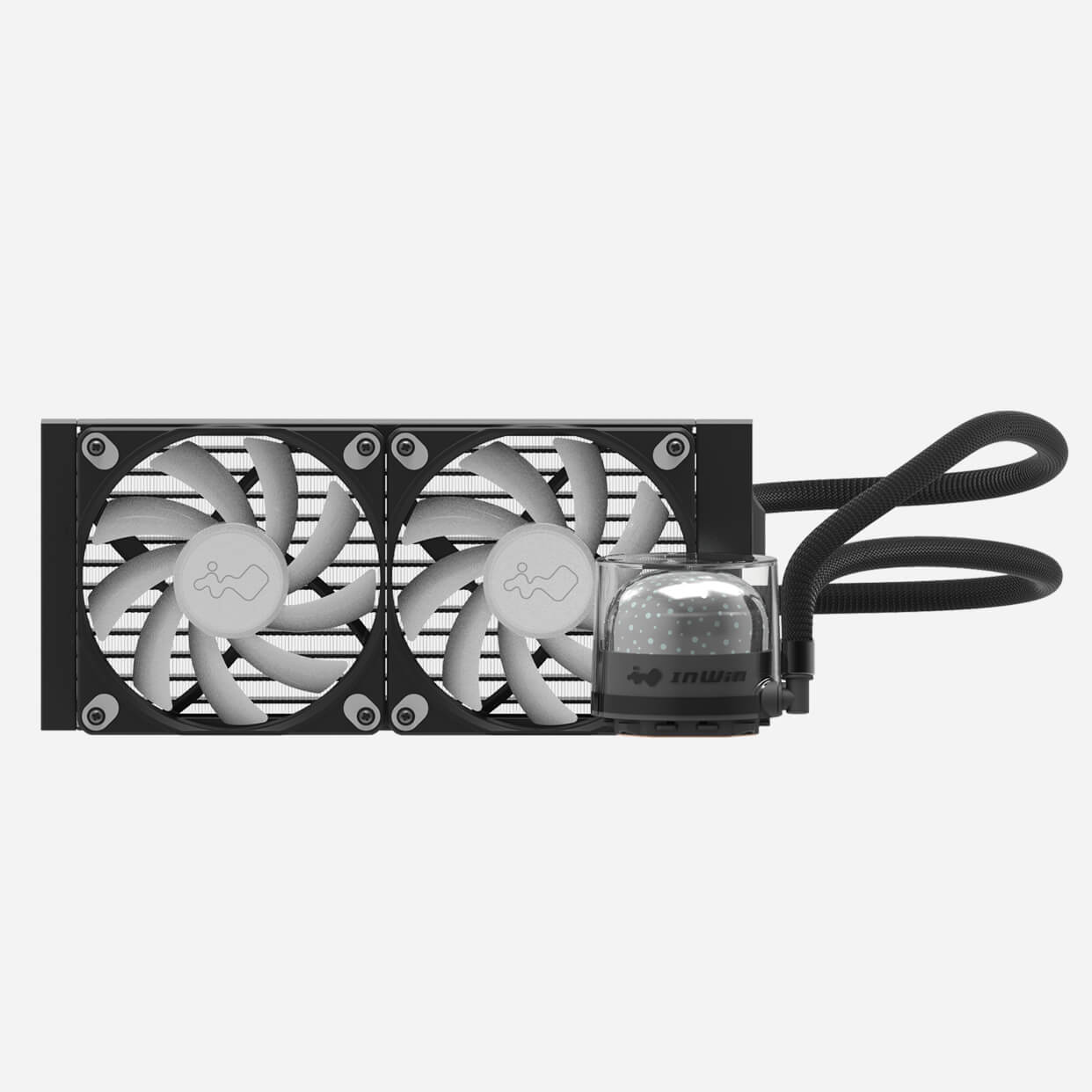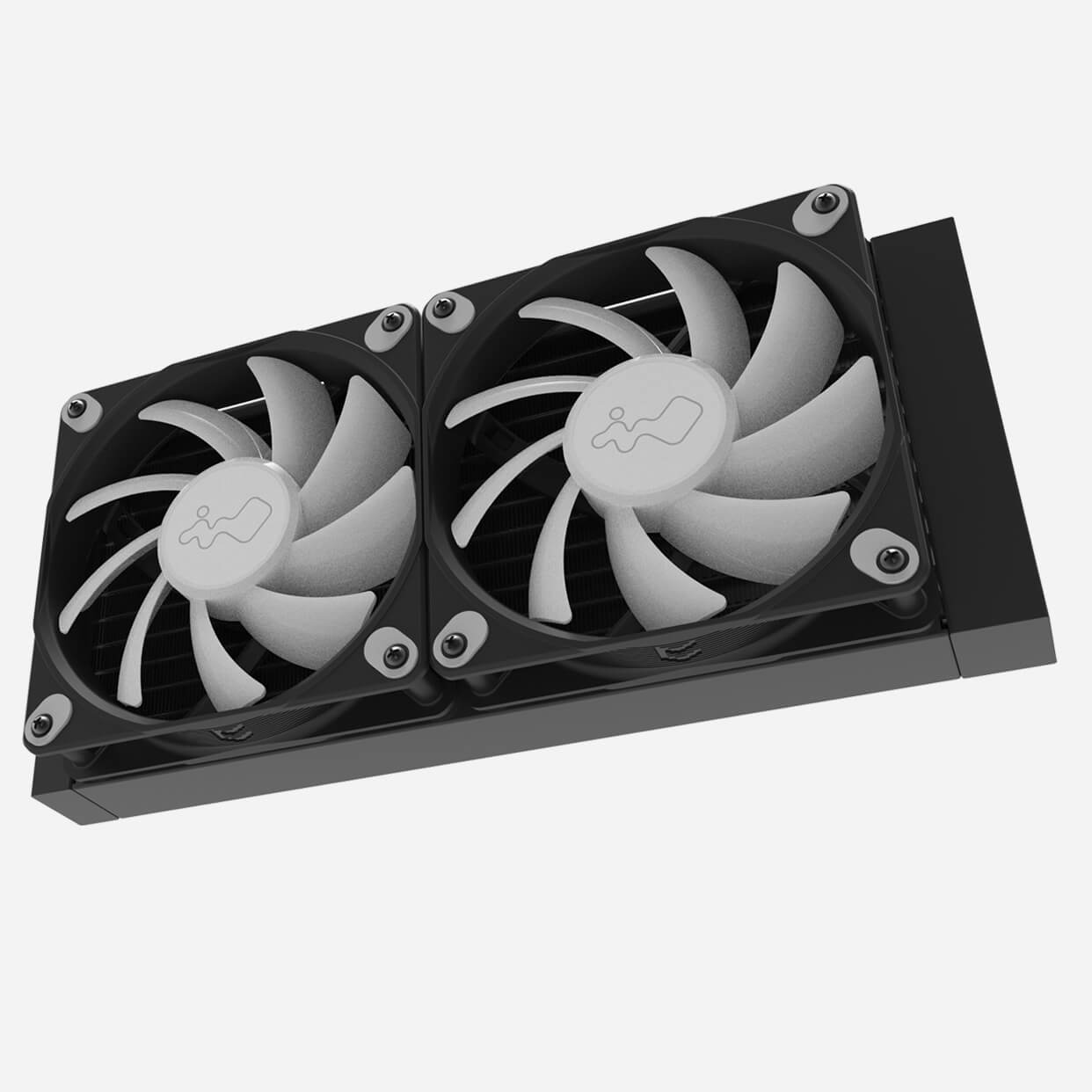 NR24
High Performance AIO Liquid CPU Cooler NR Series will provide your build with stellar visual aesthetics. The water block is filled with crystal shimmering stars and the radiator is equipped with high static pressure fans Luna AL120!
Specs
Model
NR24
Model Number
IW-LC-NR24
CPU Socket Support
Intel® LGA 1700/ 1200/ 2066/ 2011-V3/ 2011/ 1366/ 1156/ 1155/ 1151/ 1150
AMD® AM5/ AM4/ AM3+/ AM3/ AM2+/ AM2/ FM2+/ FM2/ FM1/ TR4
Radiator
Dimensions
(L x W x H)
277 x 120 x 27 mm
10.9 x 4.7 x 1.1"
Material
Aluminium
Tube Length
400 mm
Tube Material
Rubber with Nylon Braided Sleeve
Water Block
Dimensions
(L x W x H)
87.3 x 75 x 68 mm
3.4 x 3.0 x 2.7"
Materials
Copper, Glass, Plastic
Pump
Dimensions
(L x W x H)
66 x 50 x 31 mm
2.6 x 2.0 x 1.2"
Materials
PPS GF
Pump Speed
5200 RPM +/- 10%
Fans
Model
Luna Series AL120
Quantity Included
2 PCS
Dimensions
(L x W x H)
120 x 120 x 25 mm
4.7 x 4.7 x 1.0"
Speed Mode
PWM 600 - 1800 +/- 10% RPM
Noise Level
25 dB(A) (Normal)
Airflow
82.96 CFM
Air Pressure
2.31 mm / H2O
Connectors
4-Pin (12V, PWM), 3-Pin (5V, ARGB)
Bearing Type
Long Lifespan Sleeve Bearing
Package Contents
1 x InWin NR Series 240 mm CPU Liquid Cooler
2 x InWin AL120 Addressable Fans
ARGB One-Click Controller
Fan and Radiator Mounting Screws Pack
Mounting Kit for CPU Sockets
Cable Pack
Package Dimension
(L x W x H)
331 x 265 x 136 mm
13 x 10.4 x 5.4"
Net Weight
0.85 kg / 1.87 lb
Gross Weight
2.0 kg / 4.41 lb
Warranty
3 Years
* InWin's products comply with RoHS regulation.
* Specifications may vary based on different regions.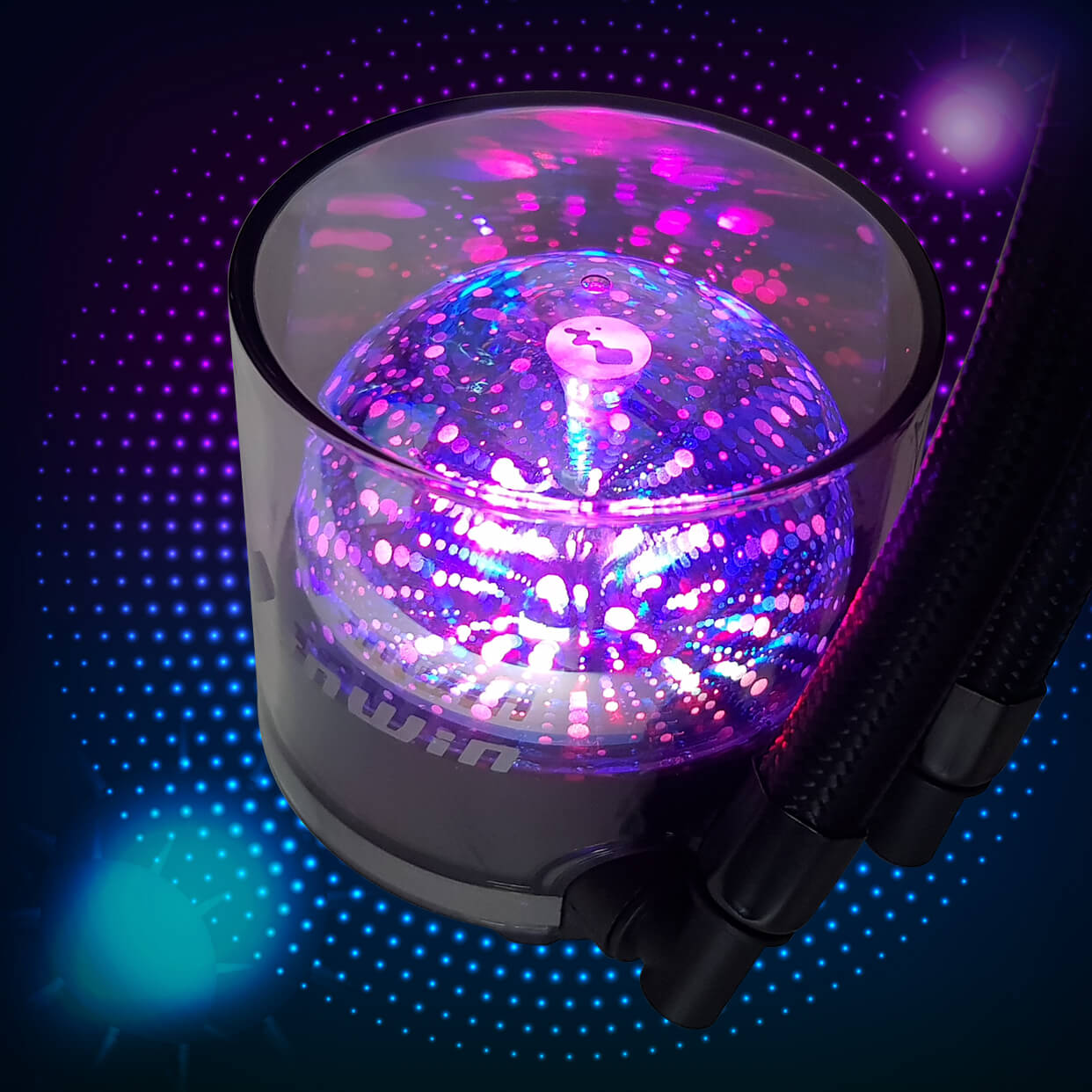 Nebula's Infinite Shining Stars
The water block is filled with a myriad of ARGB shimmering shining stars. The lighting effects can be synced with an ARGB motherboard. Gaze into the realms of Nebula!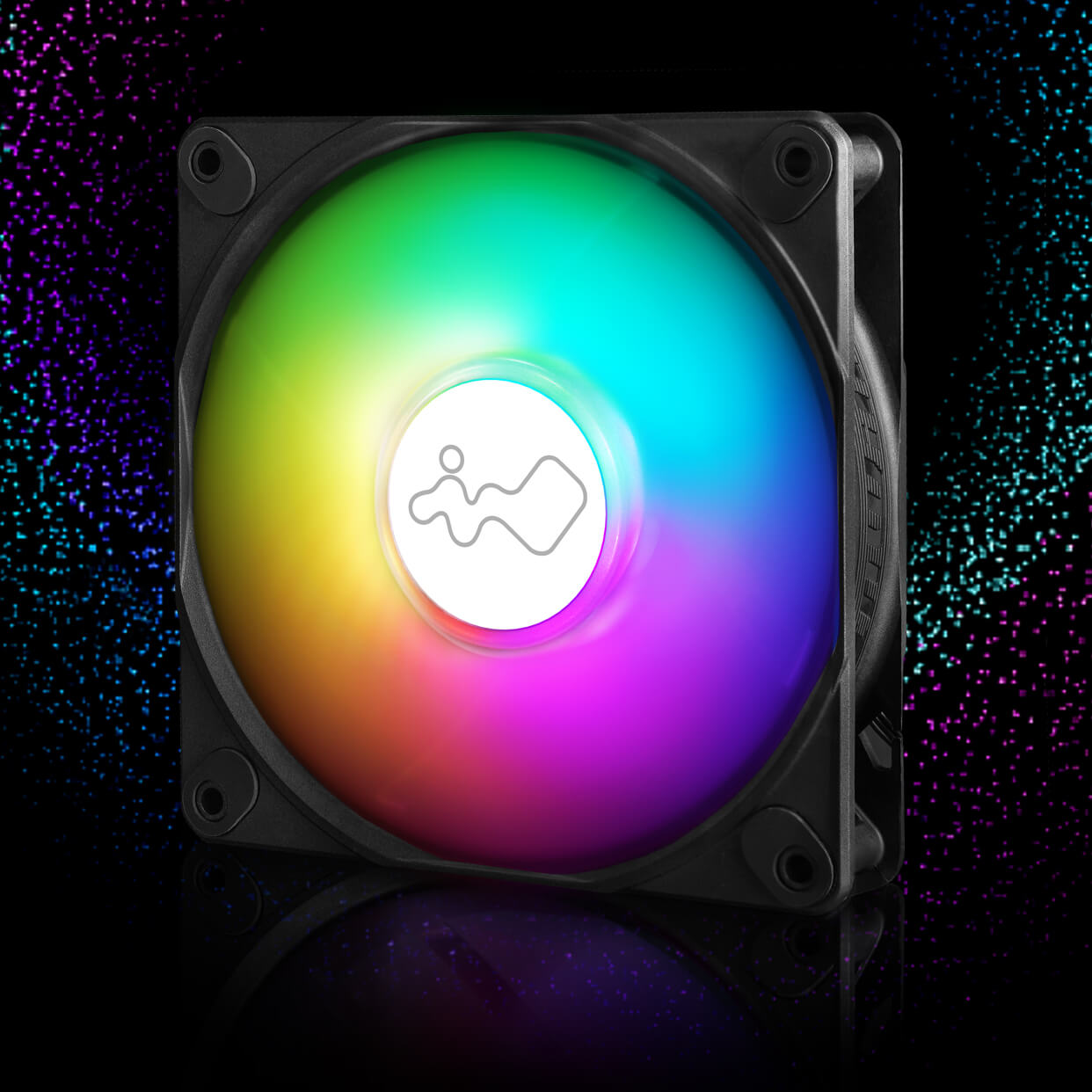 Eclipsed with Luna
The radiator is equipped with high performance ARGB cooling fans Luna AL120 which are tailor-made for liquid-cooling!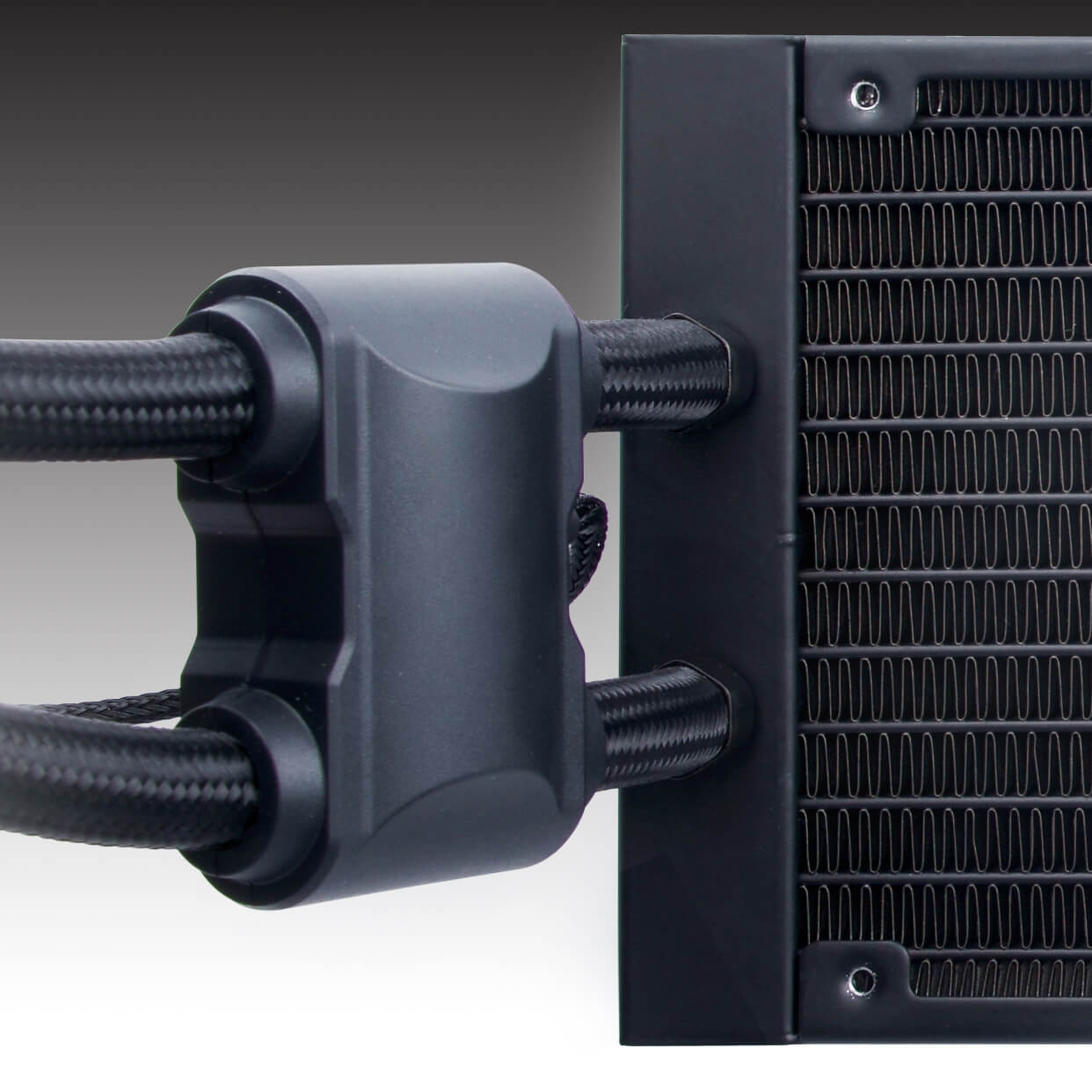 Unique Pump Design
The separated pump design cushions vibrations and suppresses noise pollution.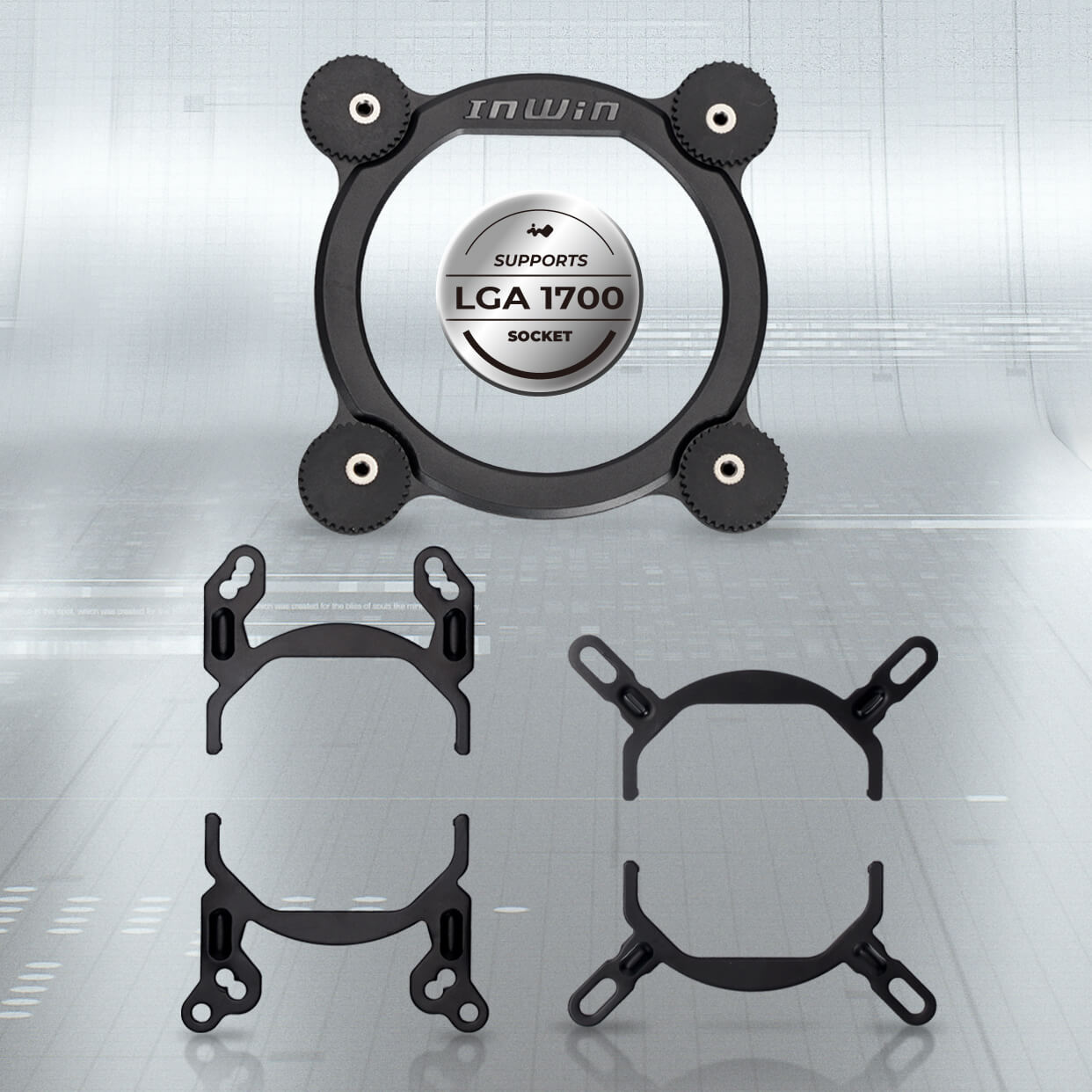 Effortless Installation
The water block is compatible with all the latest Intel and AMD CPU sockets and features user-friendly tools for simple and quick installation.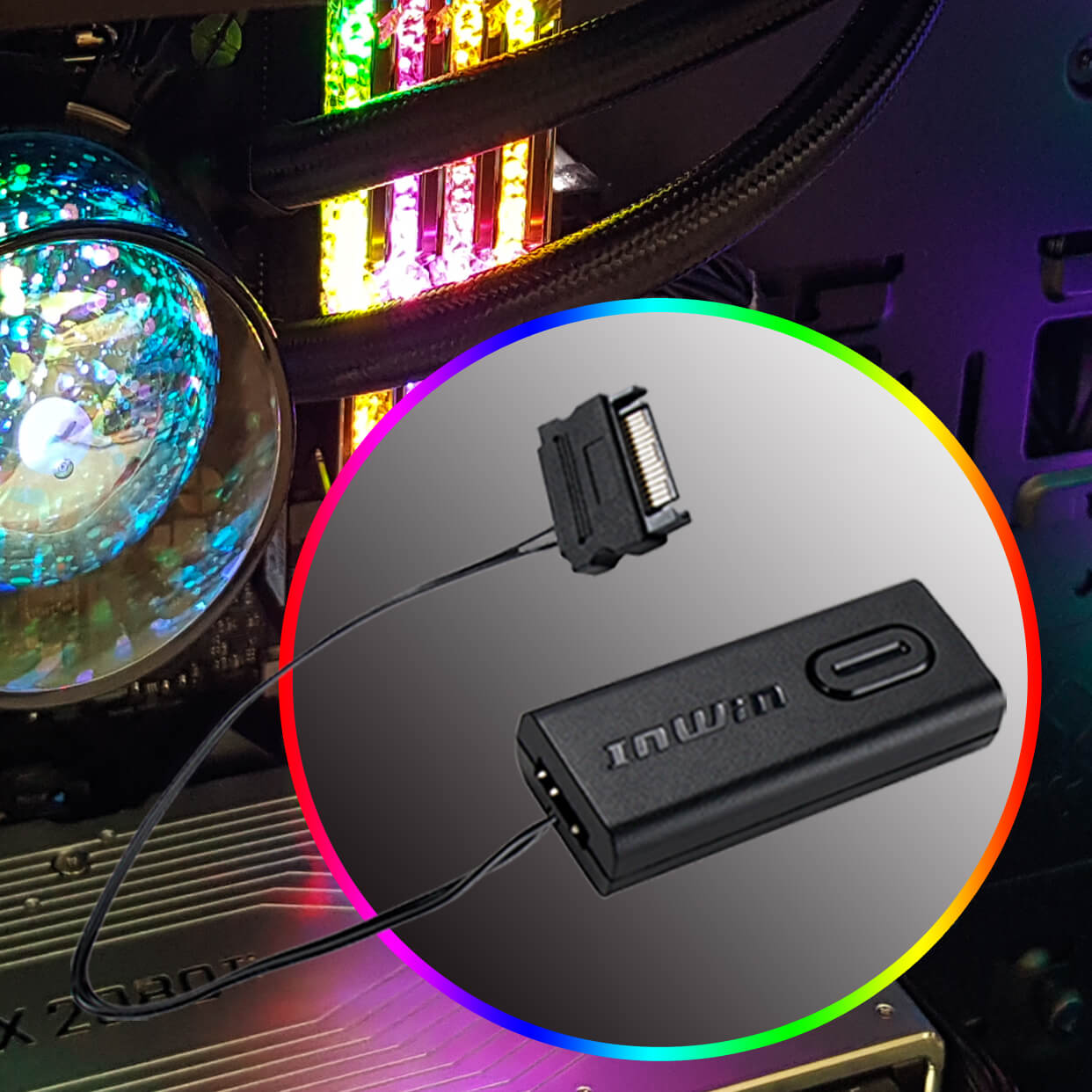 ARGB One-Click Controller
ARGB components can be controlled via the provided ARGB One-Click Controller, which provides 14 lighting modes, even in a system without an ARGB motherboard.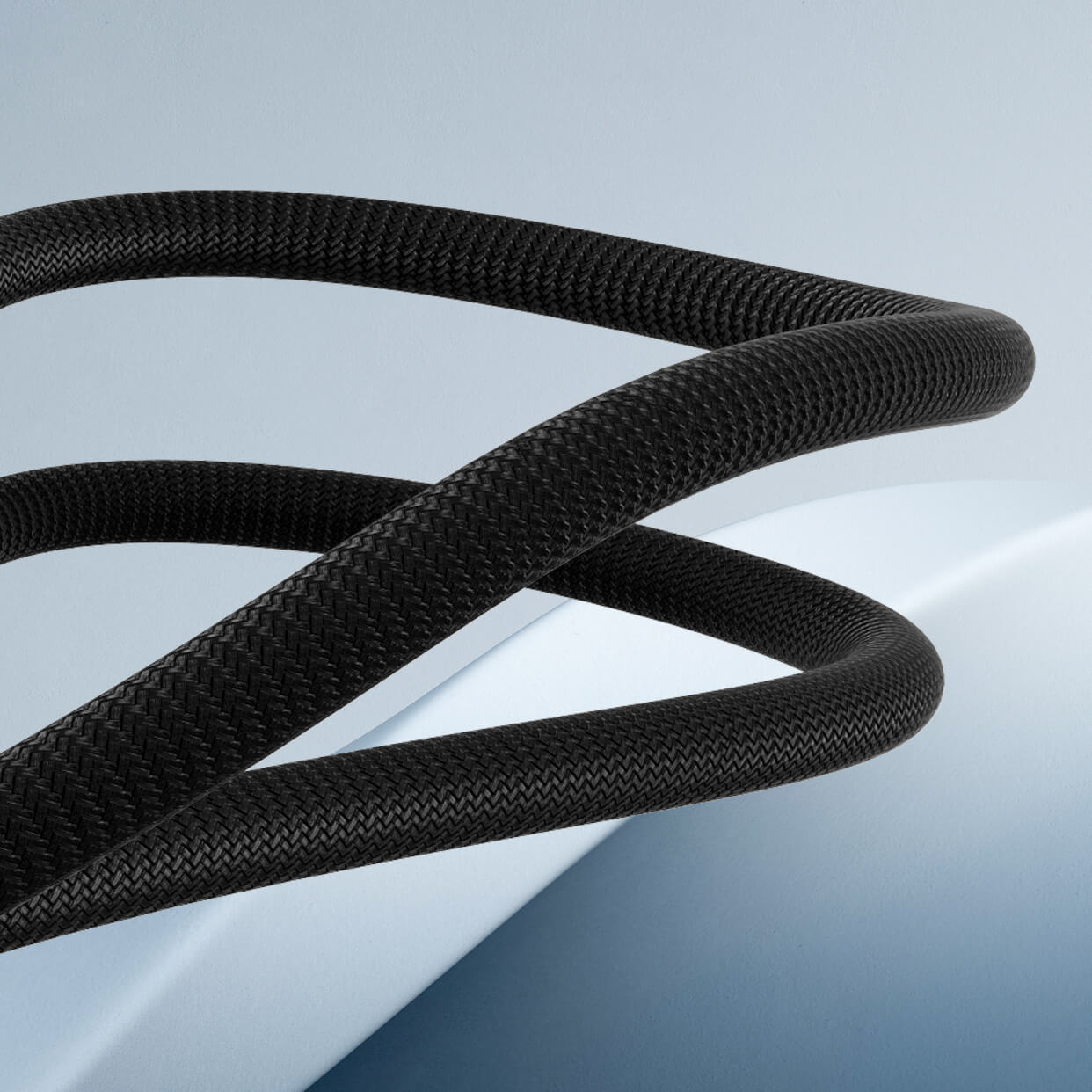 Corrosive Resistant Tubes
The tubing is sleeved with braided nylon for added protection.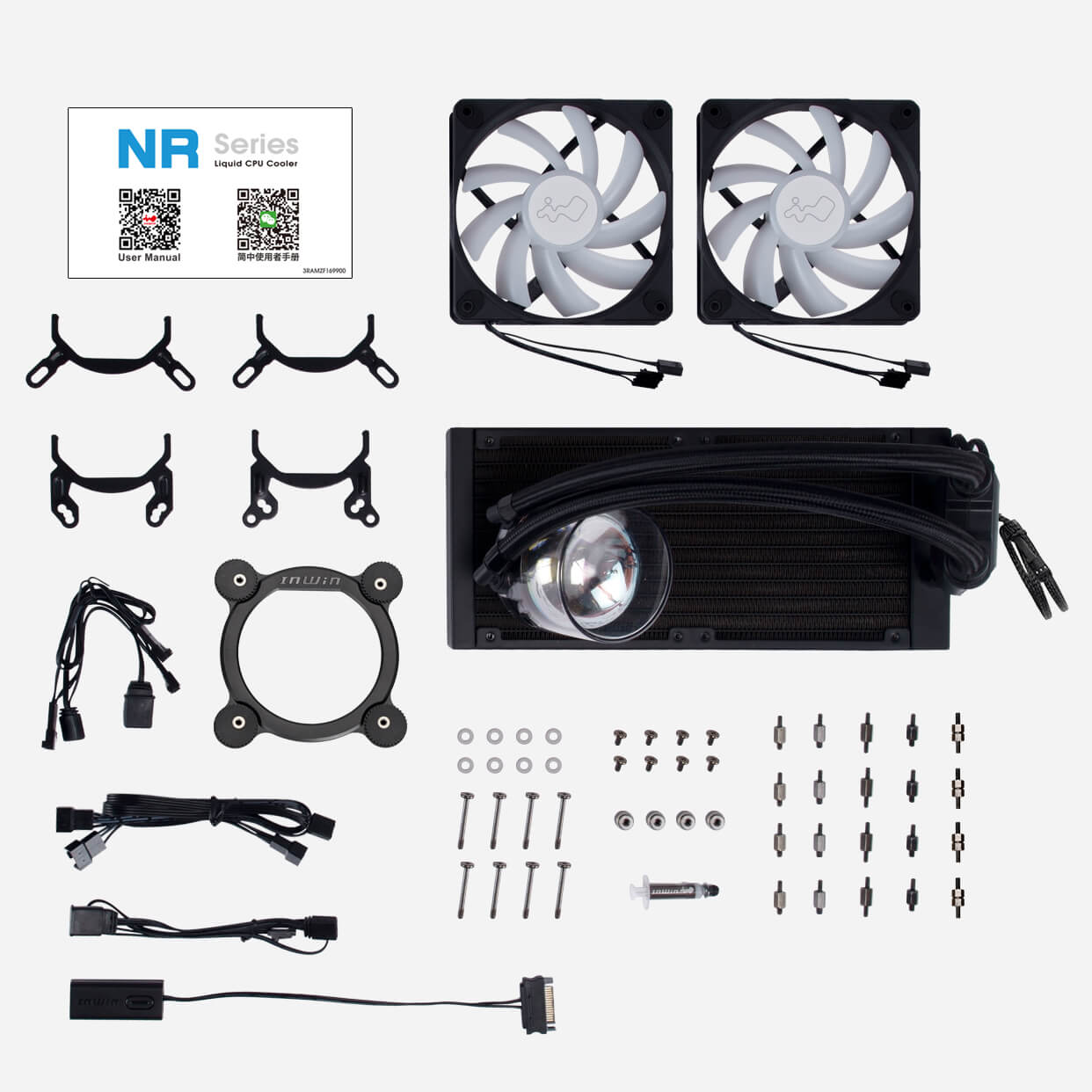 Components
NR24 CPU Liquid Cooler x 1
Luna AL120 ARGB Fans x 2
QR Code Card x 1
ARGB One-Click Controller x 1
Accessories Bag x 1
Download
Become a Fan of InWin's Case Fans!
InWin's case fans are both aesthetically pleasing and practical. There are different series of case fans that meet different user requirements. Some of InWin's fans are daisy-chainable and some are not. So, take a look and check out which InWin fans match your needs
Non-Modular Cable
4 Pin (PWM, 12V), 3 Pin (ARGB, 5V)

Sirius Loop

Jupiter Series

Sirius Pure

Luna AL120

Mercury AM120S

Sirius Extreme

Sirius Extreme Pure

Neptune AN Series

Neptune DN Series

Neptune DN PRO Series

Modular ARGB Type 1
6-Pin Modular (PWM + ARGB)

Aurora

EGO

Modular ARGB Type 2
6-Pin Modular (PWM + ARGB)

Crown Series

Saturn Series

Modular RGB
8-Pin Modular (PWM + RGB)

Polaris RGB Series

Polaris AluminumRGB Series
InWin's Fans Compatibility Note:
1. Do not chain up your fans with other fans in with different cables types.
2. ARGB fans and RGB fans are not compatible with each other.