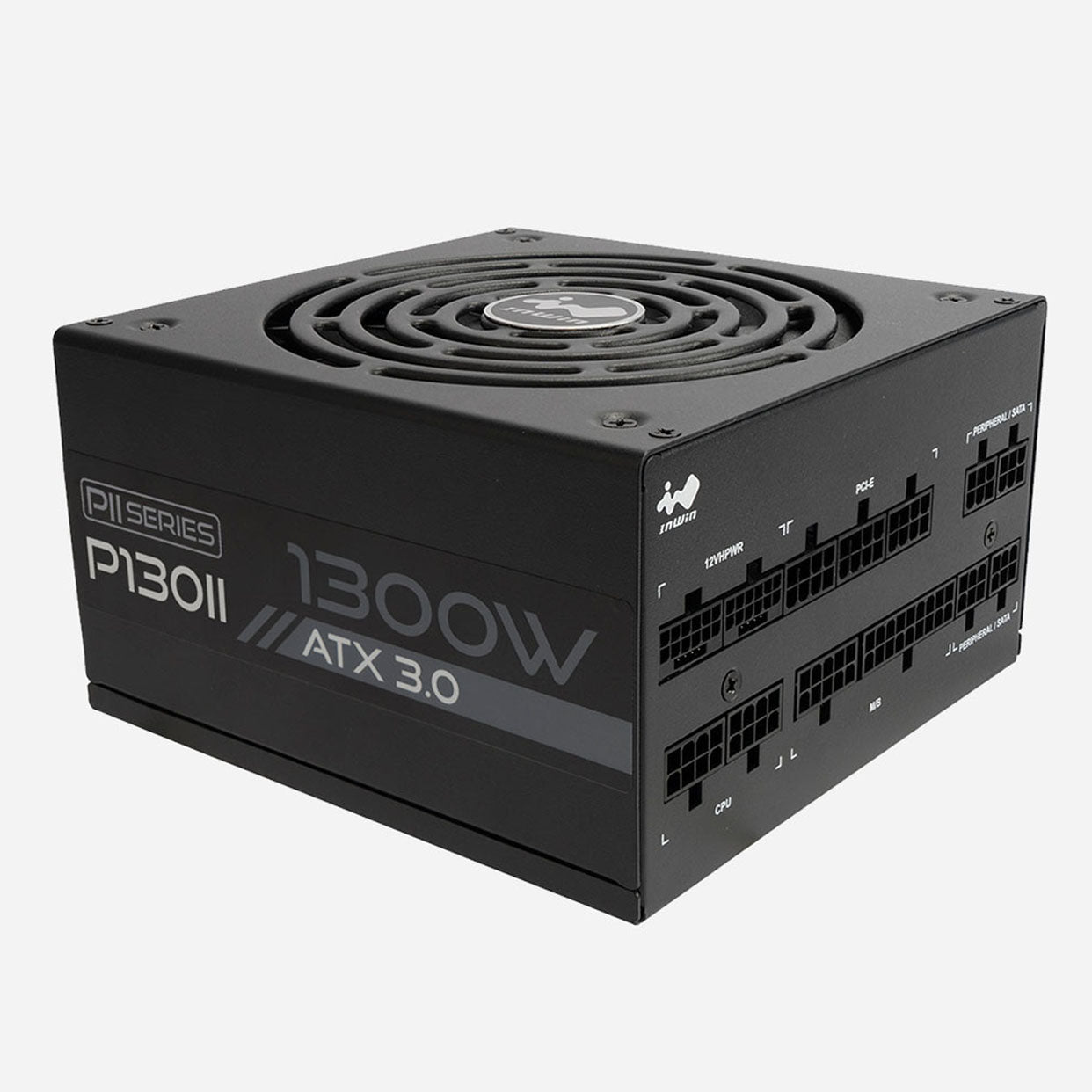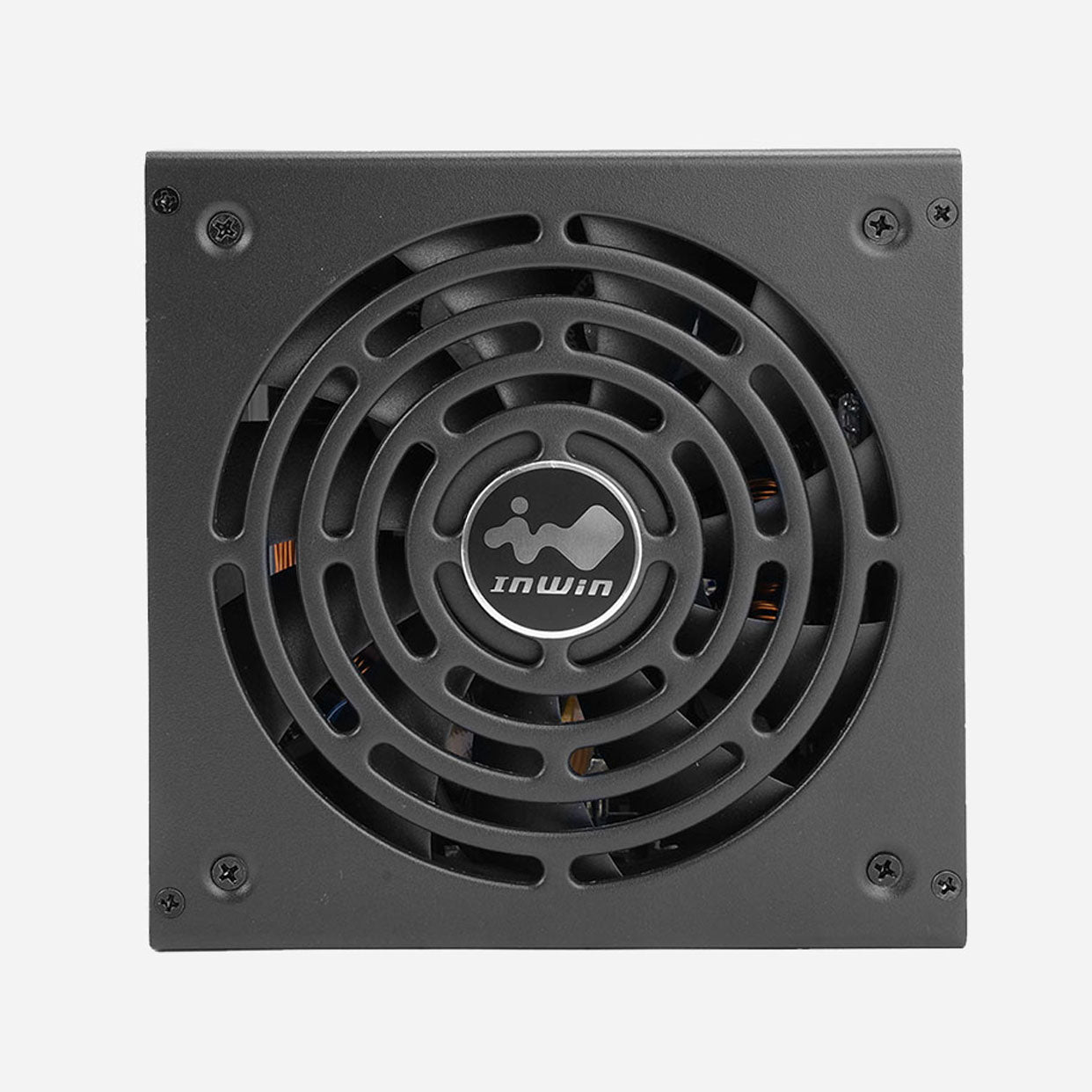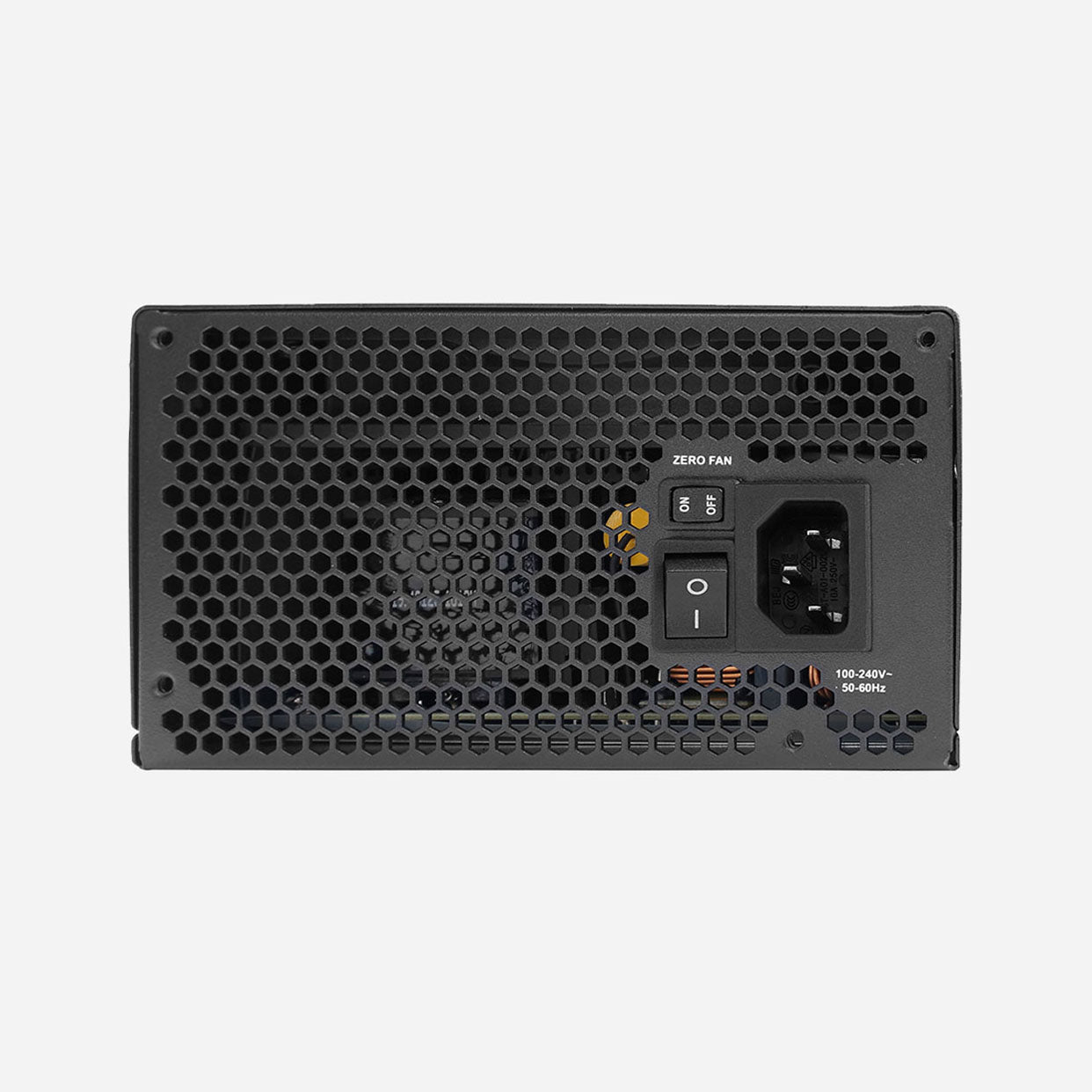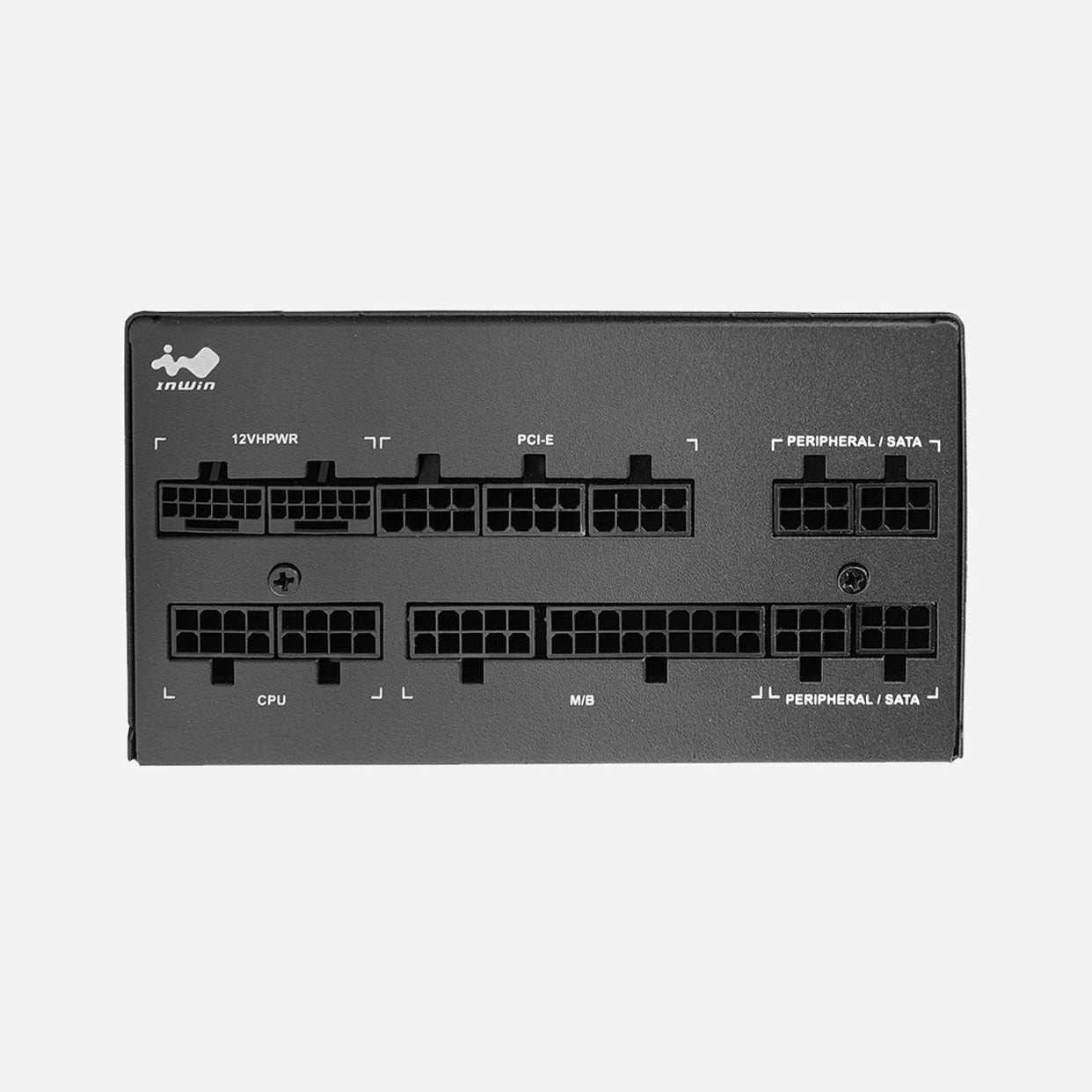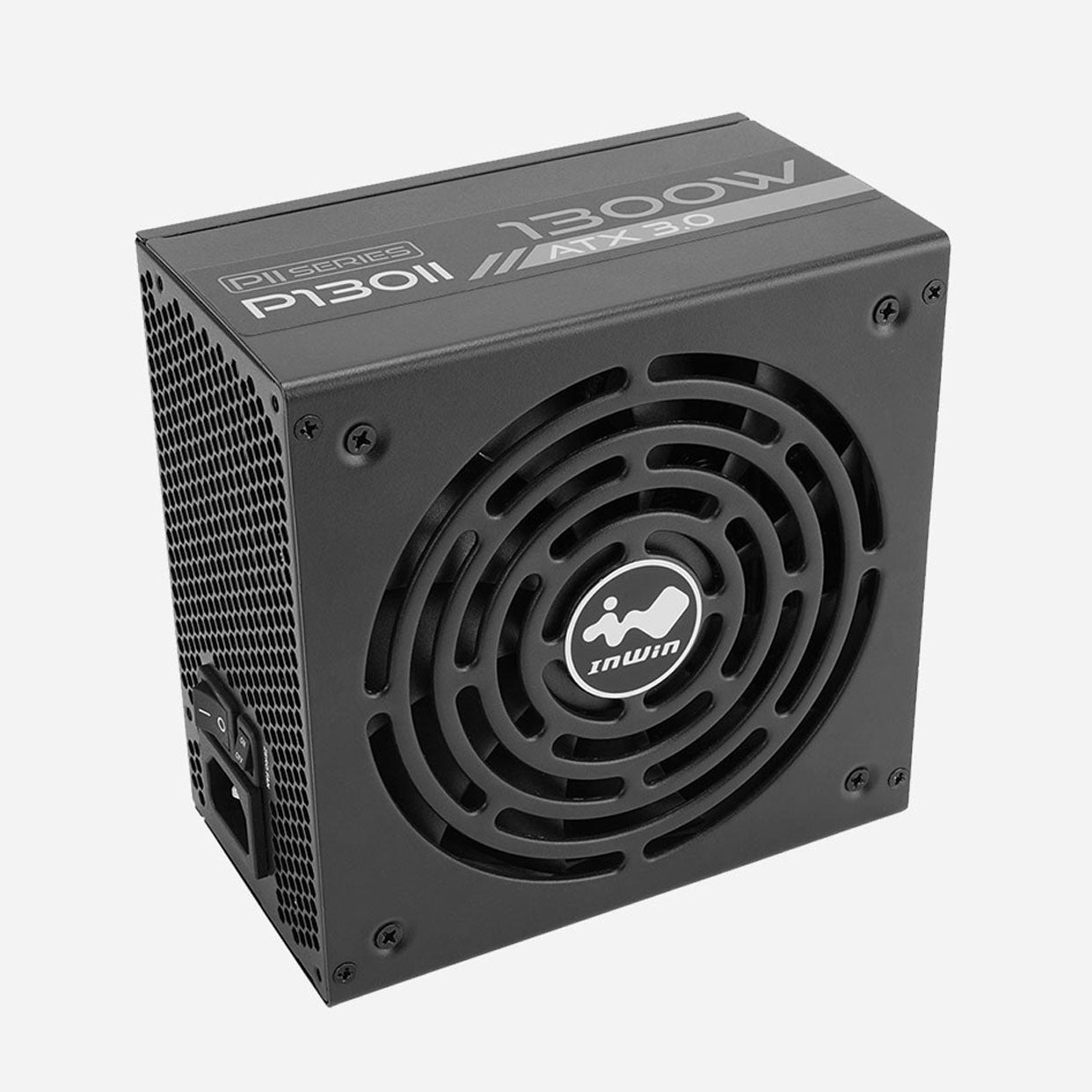 P130II
The PII Series is an 80 PLUS® Platinum certified power supply. It's developed with more safety features, higher stability, and is fully modular. The PII Series PSUs are produced specifically for the new generation of high-end GPU users.
* Currently, we are only including a standard German PSU power cord with all the eStore EU orders. Please use a suitable adaptor to meet your country's standards if necessary.

Completely Complies with Intel's ATX 3.0 Regulations

Fully Modular with the Newest PCI-E 5.0 (12VHPWR), 16-pin Connector Cable

80 PLUS® Platinum Certified Power Supply

Zero Fan Mode Maintains an Ideal Balance Between Noise and Thermal Levels
Specs
Model
P130II
Part Number
IW-PS-PII1300W
Total Power
1300W
Materials
SECC
Type
ATX12V V3.0
Cable Management
Fully Modular
PFC
Active PFC ( >0.95)
Efficiency
80 PLUS Platinum(Up to 92%)
MTBF (Hours)
> 100,000 hrs.
AC Input
100-240 Vac,15-8A, 50-60Hz
Fan
135 mm FDB Fan
Typical Load Fan Noise (dBA)
(50% Loading)
<25 dB(A)
Operating Temperature Range (°C)
0 - 40 °C
Full Protection
OCP / OVP / UVP / SCP / OTP / OPP
Safety Certifications
cTUVus、TUV、BSMI、RCM、CE、FCC、UKCA、CB
Product Dimensions
(L x W x H)
150 x 150 x 86 mm
Package Dimensions
(L x W x H)
355 x 210 x 105 mm
Net Weight
2.8 kg
Gross Weight
3.4 kg
Warranty
10 Years
Connectors
24 Pin Motherboard
1
8 (4+4) Pin CPU
2
8 (6+2) Pin PCI-E
6
4 Pin Peripheral
4
PCI-E 5.0 12VHPWR
2(600W)
4 Pin Peripheral
3
SATA (90 Degree)
9
Floppy
1
* InWin products comply with RoHS regulations.
* Specifications may vary based on different regions.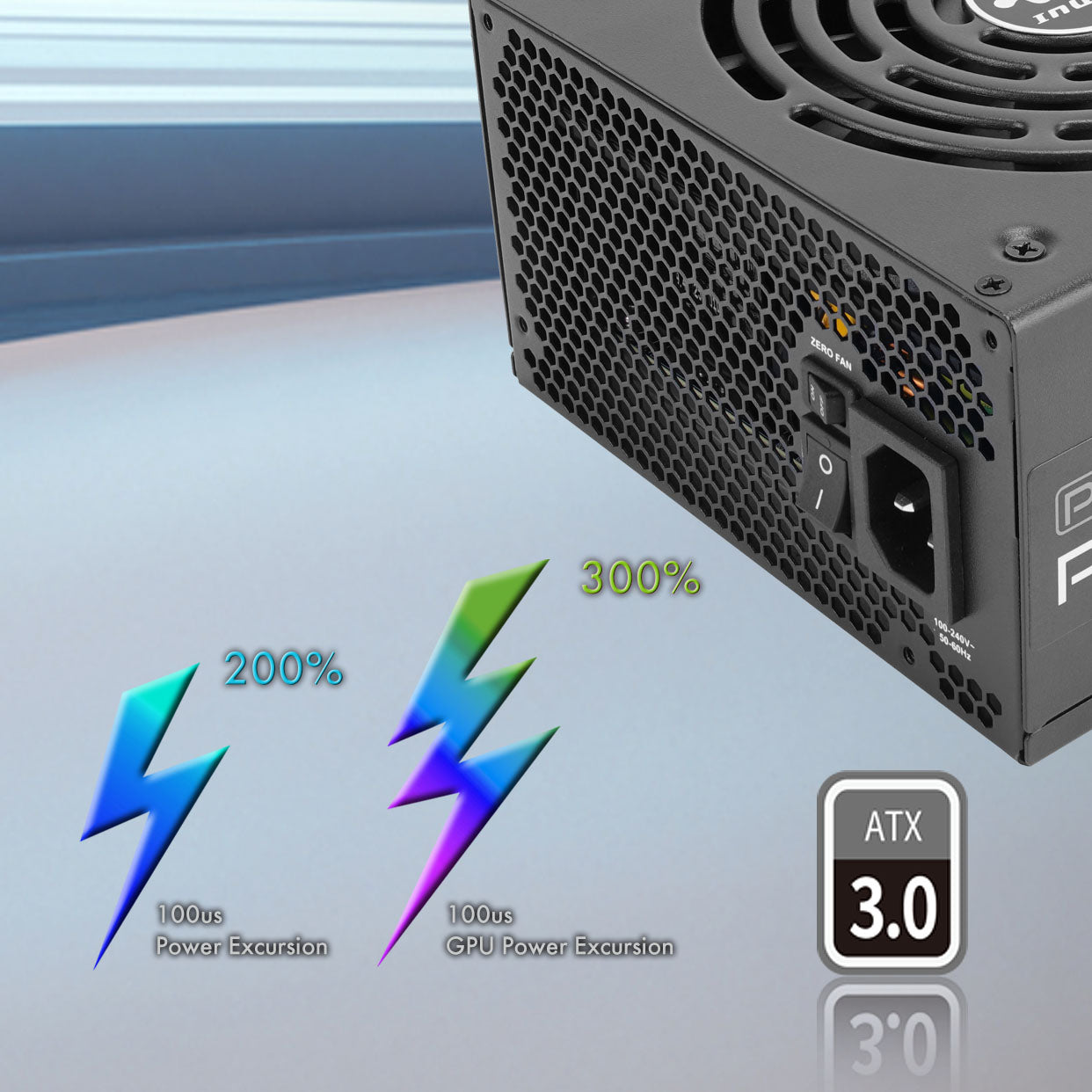 PII Series is ATX 3.0 Ready
The PII Series fully meets the newest generation of Intel's PSDG (Power Supply Design Guide). This helps to prevent possible system instability or power failure, enhances output stability, and enables high-end GPU users to enjoy gaming or work without worries.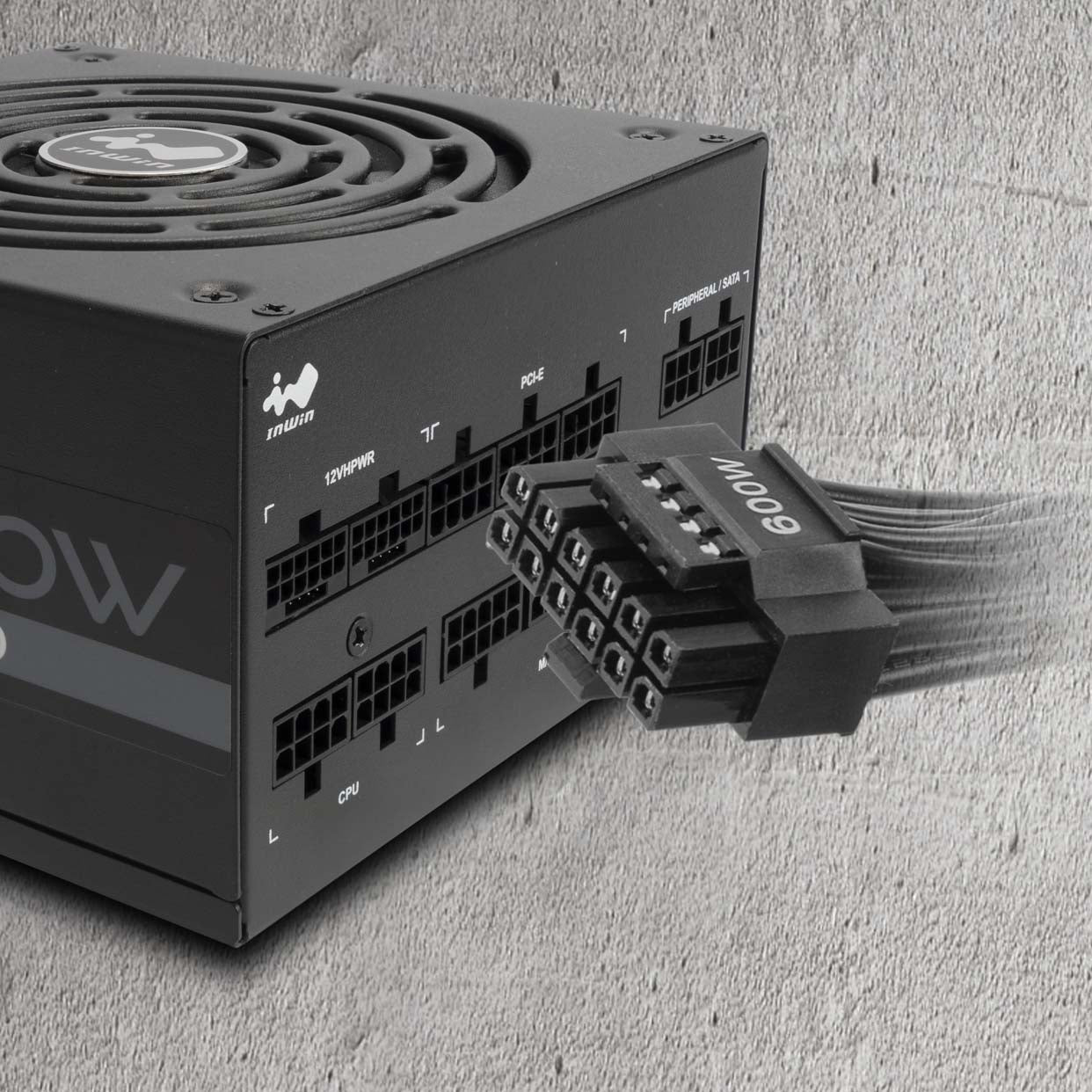 Here for High-End GPU Users with PCI-E 5.0
With the native 16-pin (12VHPWR) PCI-E 5.0 connector, the PII series is ready for high-end GPU users, and can support up to 600W of continuous power output.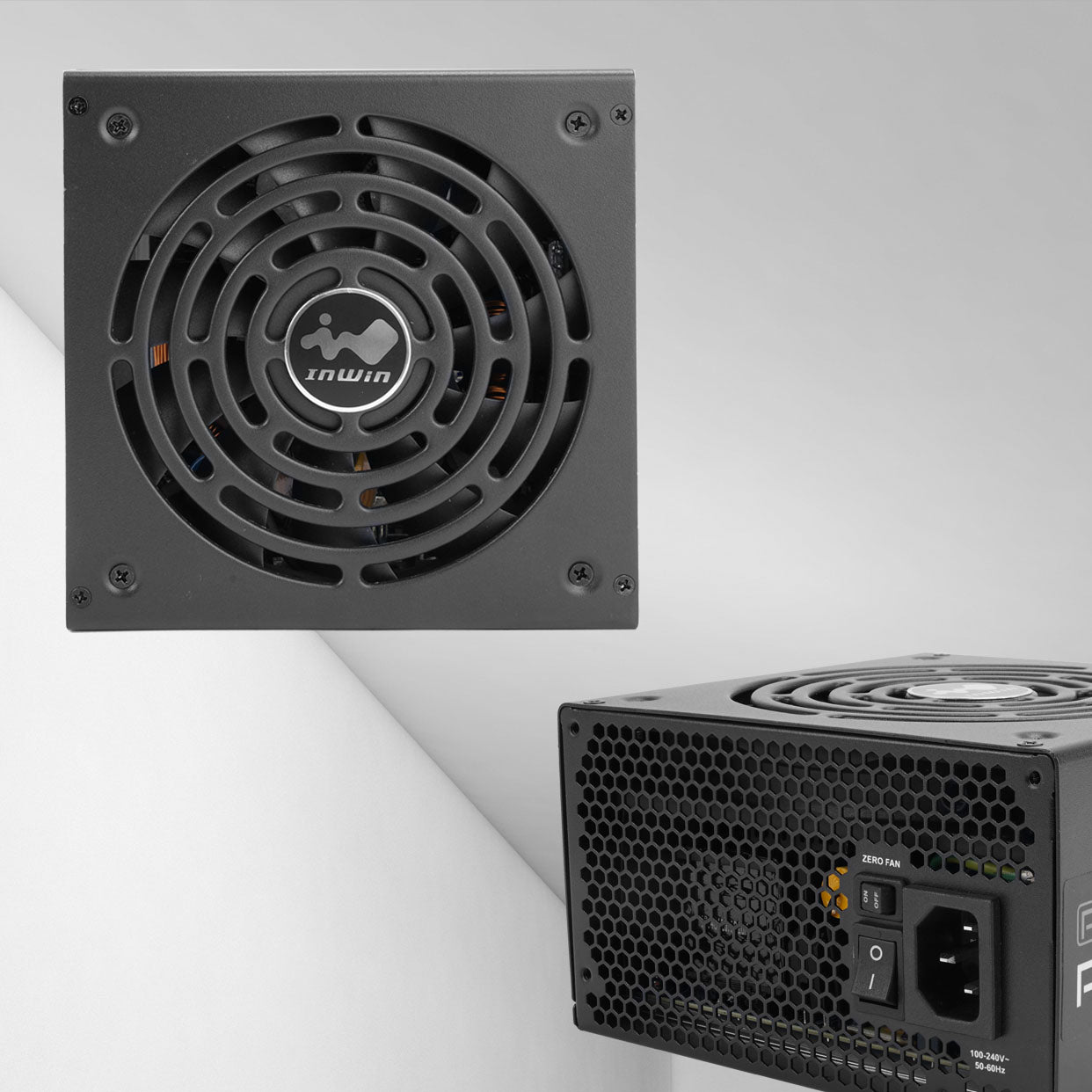 Hibernation Mode
The 135 mm FDB fan will enter hibernation mode automatically when the system's load drops below 20%. This feature ensures a stable power supply and minimizes noise levels. The fan will resume spinning once the system's load exceeds 20%. (Note: Zero Fan must be on the "On" position to use properly)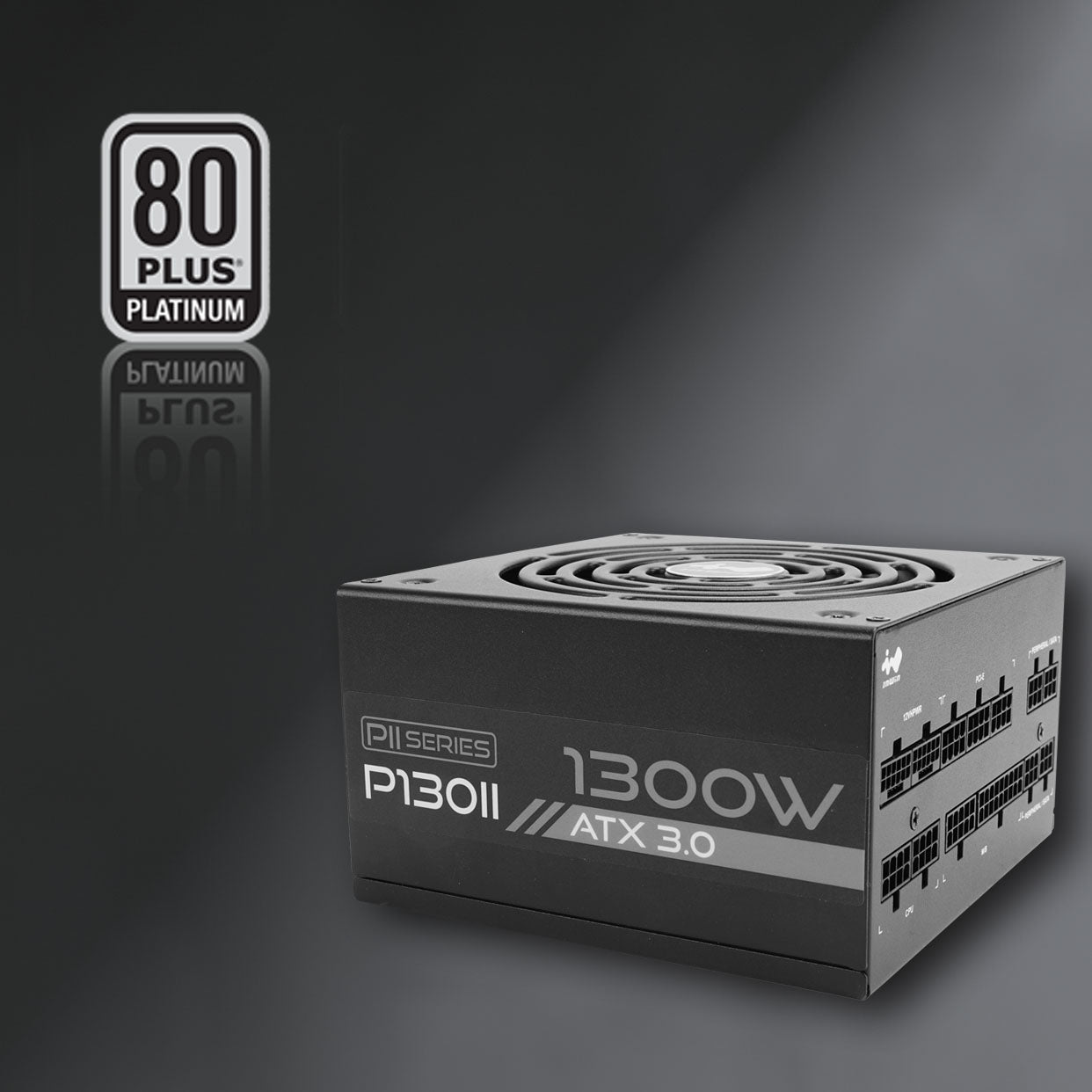 80 PLUS<sup>®</sup> Platinum Certified Power Supply
Highly efficient, delivers up to 92% conversion efficiency at 50% system load.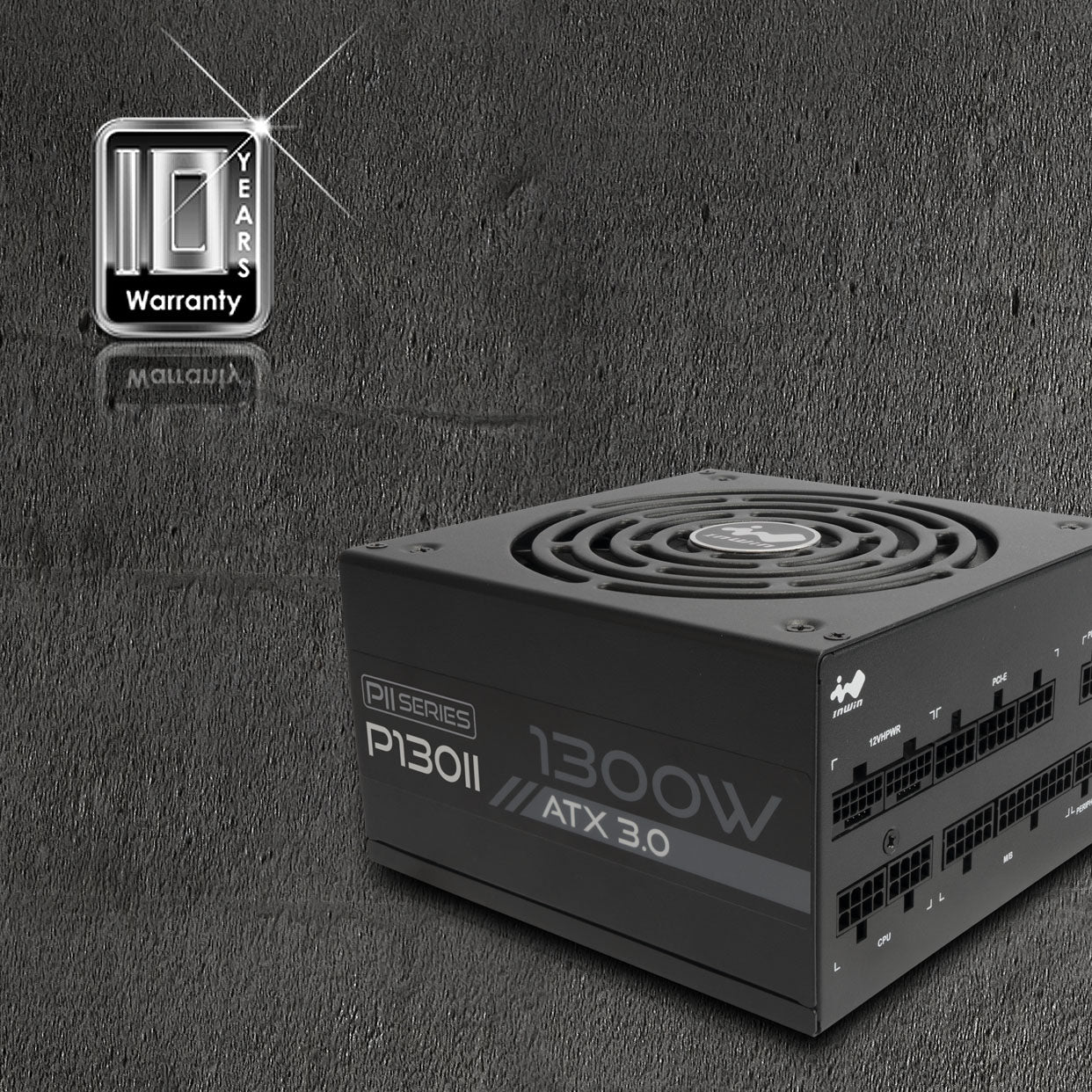 10-Year Warranty
Our unwavering belief in the exceptional quality of our PII Series PSUs is evident in our provision of a 10-year warranty.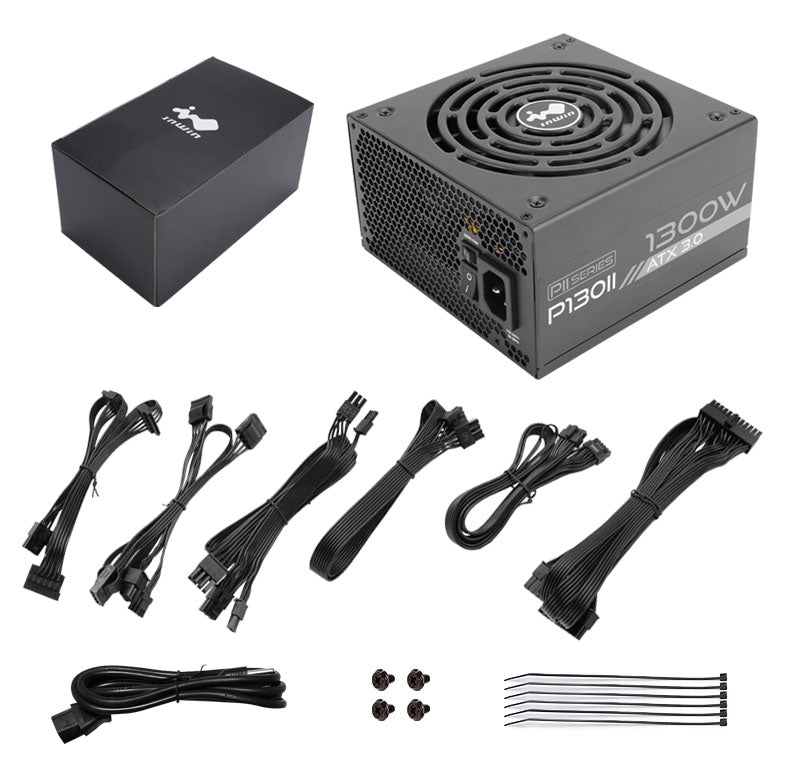 Components
P130II 1300W Power Supply x 1
Modular Cables Box x 1
24 Pin Motherboard x 1
8 (4+4) Pin CPU x 2
8 (6+2) Pin PCI-E x 4
PCI-E 5.0 12VHPWR x 2
SATA (90 Degree) x 3
4 Pin Peripheral & Floppy x 1
Download